This month's Teachers.Net Gazette offers a July 2003 - July 2004 school year printable calendar in three formats. An Adobe Acrobat (pdf) version of the Microsoft Word 2000 (or above) file (doc) which has nested tables at the top of each month's page showing the previous and next month and a Microsoft Word 97 format for users who want to be able to digitally edit but don't have the newer version of Word. (Word 97 does not read nested tables.) You will be able to digitally edit the Word formatted calendars as you would any Word document.
Download and save the July-July school year calendar in MS Word 2000+ using your preferred procedure. 0304schoolcal.doc
Download and save the July-July school year calendar in MS Word 97 using your preferred procedure. 0304schoolcal2.doc
---
Correcting & Proofreading Checklist
from Ellen Gabor
www.e-tme.com
---
In this document, Ellen has created two identical checklists on one page to be cut up the center creating two separate checklists.
---
Calendar Bordered Stationery
created by Mary E. Miehl
based upon an idea shared by Emmy/3/OK
on the Teachers.Net Chatboard
teachers.net/chatboard
---
This stationery can be used in two different ways. It is an Adobe Acrobat file, but it is in a form format allowing you to enter text with your keyboard.
Print out and write by hand in the center portion OR

Click your cursor in the center portion and type your text
---
Tic Tac Math
posted by Larua/First/Texas
on the Math Teachers ChatBoard
teachers.net/mentors/math
---
Hi! Six years ago when I taught first and second out in California, I found a game called "Tic Tac Math". I think it was in Wal-green's or another similar store. Essentially it was 9 or 12 tic tac toe boards put together. Instead of blank spaces to put an X or an O on, there were peg holes with a number 0 - 9 (I think there was another side with larger numbers, but I could be wrong). What you would do is roll two dice, then you could choose to either add or subtract what you rolled. Ex. You roll a 3 and 4, it could either be a 1 or a 7. Once you decided what you wanted to do (add or subtract) you would then place one of your pegs by the sum or difference on any one of the tic tac math boards. Of course, if all of the numbers with your sum or difference had already been used, you would lose your turn. Whoever had the most tic tac toes at the end of the game won.
Well, when I moved back to Texas, I left the game in my old classroom. My first graders would be staying in the same room and become second graders, and I knew how much they loved that game. I thought I could find it again quite easily. I was wrong. For the past four years I have been looking for it. Tonight I decided to do a web search for it, but did not have any luck (all I found were a bunch of sites with lesson plans for a Tic Tac Math game on the whiteboard).
So, can anyone help me? I really don't want to try to reproduce this on my own if it's still out there somewhere.
Thanks so much in advance.
Laura/First/Texas
Response
Posted by Mary/PA
Is this anything like what you had in mind? No pegs, but the children could put markers on the answers.
There are nine different sheets in this file.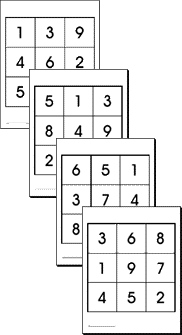 click the image for the printable file
---
Gazette Printables: