The Teachers.Net community was saddened to learn of the passing of one of our members, Marcy Lucas, on December 1, 2000, at age 47, following a brief illness. Marcy, a kindergarten teacher known to many by the chat nickname "Dolfnlvr," selected because of her love of dolphins, contributed regularly to the forums at Teachers.Net and was cherished as a devoted, humorous, and supportive friend and colleague.
Marcy leaves her husband and two children. Those who wish to may post a message of condolence at http://www.gooseholler.com/marcy. Submissions will be loaded manually within a day. When you return to the site, reload it in order to view the updated page.
If you would like to receive information about a memorial fund for the purchase of books for Marcy's school, please contact Kathleen Carpenter, Director of Promotions at Teachers.Net, by e-mail at kathleen@teachers.net. (Please type "MARCY FUND" in caps in the subject line.)
Laney October 29, 2000

Birthdays
| | |
| --- | --- |
| 12-1: | Gumbo/LA |
| 12-3: | Sallie3/DE |
| 12-4: | AngelaB/3rd/TX |
| 12-8: | Linda/NM |
| 12-14: | SusanRCT/4th/OK |
| 12-16: | Joe |
| 12-18: | Bill T, Karen (Mrs. Goose), kdw |
| 12-24: | Emmy Ellis |
| 12-25: | Life |
| 12-26: | Merlyn/MD |
| 12-29: | AngelJ/TX |
To announce your wedding, births, or other news to the Teachers.Net community, email the announcement to kimtracy@teachers.net.


---
Announcing the first Worldwide BE TOBACCO FREE Cartoon Contest!
Known as America's #1 rated elementary school drug prevention program, The World's Fastest Clown (TWFC), Mike Guido, has begun to spread his message well beyond North America. Through the exposure of TWFC website, www.worldsfastestclown.com, he is now able to reach youth worldwide. While TWFC has been successful reaching thousands upon thousands of children nationwide through his auto racing, magic shows, and media coverage, expanding to the Internet became the next obvious step to reach even more. With the open gateway to the world, TWFC created a universal contest to promote the campaign's anti-smoking message while exposing the truth about tobacco products. Named the Worldwide BE TOBACCO FREE Cartoon Contest, it is the first ever worldwide anti-smoking contest. "While the facts of poor health, ruined lives, and painful deaths due to tobacco products are becoming known by the youth in their own country, few are aware of the worldwide devastation. This contest will allow people of all ages worldwide to tell the effects/views of tobacco in their country with one universal language, cartoons. Through the humor and pain seen in these cartoons, the youth will realize that there is a common union throughout the world to be tobacco free!" explains TWFC.
With the promotion of the contest being an essential factor to reach out worldwide, the youth-run DRUG FREE! Racing Promotions Team has worked numerous hours on this project. "We've gone to school, drug/tobacco prevention, and kids sites from all around the world and so far created an email mailing list of over 2,000. Our goal by the holidays is to have sent out 7,500 targeted emails." states the 13 year old Promotions Team Manager, Tiffany Galatovich. She adds, "On the county/state level, we are partnered with the Brevard County, Florida, SWAT (Students Working Against Tobacco) campaign. From their local and statewide involvement with the Florida Tobacco Pilot Program, kids throughout Florida are hearing about the website and contest. It's exciting to see how fast the contest is spreading!"
Of course, with any contest, the enticement of a super prize becomes one of the entrants' motivators. In association with CACY (Community Action for Capable Youth), in Mansfield, Ohio, community minded sponsors, Sea-Doo, Andretti Thrill Park, and Con's Cycle Center (all located in Melbourne, Florida), donated a new Sea-Doo GSX watercraft for the grand prize. Making the grand prize worldwide friendly, the winner will have the option to take 2,500 U.S. dollars. In addition, when the contest is used for a school class or club project and someone from the group becomes the Grand Prize winner, the teacher will be awarded 250 U.S. dollars to be used for class/club supplies and a celebration party! To enter the contest, visit TWFC website, read the rules, complete and print the entry form, draw the cartoon(s), and send it/them in! The contest is open to everyone, all ages worldwide. All entries must be received by April 14, 2001.
In addition to creating the exciting website and contest, TWFC is working towards next year's racing/show program. Plans are in the works to have TWFC compete in the SCCA Trans-Am Series along with competing in the NASCAR Craftsman Truck Series road race events. The Magic Shows will be performed at elementary schools in conjunction with the racing schedule. Also planned for next year will be the debut of TWFC's custom school bus transporter, which will carry the show/race car to the school shows and race events.
Come visit the website, not just for the Cartoon Contest, but also for some humorous, to the point, anti-smoking tobacco ad parodies, activity pages, and a chance to also win in the Monthly Giveaway Contest! Great for all ages!


---
Civic Art Competition looks to schools to promote new Honda Civic
Honda.co.uk has formed a unique partnership with Schoolsnet.com, the UK's No1 education website, to run a special art competition that will promote the new Honda Civic - recently launched at the NEC Motor Show in Birmingham - in a novel way.
The Civic Art competition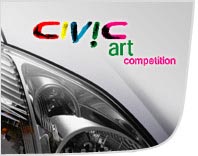 is open to all Secondary School children in the United Kingdom. Children are invited to express their creativity by producing a drawing, painting or photograph inspired by one of three themes: power, space or style. The closing date for entries is 30 December 2000.
Honda spokesperson Rebecca Adamson said, "The aim of this competition is to encourage the younger generation to express themselves and create art to promote our new car. This type of promotion up to now has always been an adults advantage."
She added "Being a family brand, Honda always aim to appeal to the whole family and we felt this partnership with Schoolsnet would invite young, fresh perspectives that we are only too happy to reward generously."
The school attended by each of the three winners will win a Honda people carrier for their school. Other prizes include day trips for each National winners class to a Tate Gallery, a Playstation 2, and three winners from each age group will receive a micro scooter.
Andy Cowlishaw, Schoolsnet's head of sales, said "Schoolsnet is very pleased to be working with Honda to promote art in secondary schools over the UK. This competition is a great opportunity for children to develop their artistic skills and to use their imaginations in a new and exciting way." He added "We are grateful to Honda for their generosity with the prizes for this competition."
The most creative 60 entries will be displayed on the Schoolsnet website between January 8 and February 28 2001. Visitors to the Schoolsnet site will be able to vote for their favourite work.
For further details about the Civic Art competition click here: http://www.honda.co.uk/civic_live_it/competition.html