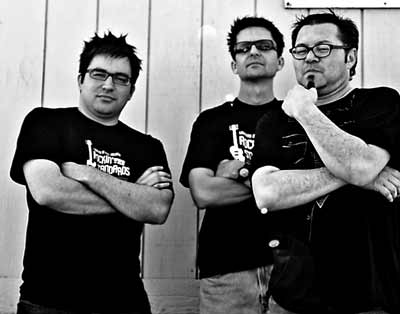 Rockin' the Standards- Ryan Shultz, Tim Bedley, and Ben Jacobs
Think back to when you were in 4th grade. Imagine if you had shown up to school one day and found out that your teacher had started a real rock n' roll band to help you learn. How cool would that have been? The 4th graders in Mr. Tim Bedley's class of Wildomar Elementary in Wildomar, CA this past school year experienced just that. This past April the band put on their first concert to a packed house in the school auditorium. How did this happen?
Back in September of 2005, Tim sat down with his computer and started changing the lyrics of old songs. He thought, "My students have the hardest time remembering some really important concepts. I have to keep reteaching and reteaching. If only I could get them to sing the information, they would NEVER forget!" Tim gradually began teaching his class of 3rd graders each of these songs... and it WORKED! No longer did students inquire, "What's a trapezoid?" Spelling improved when 'flys' turned into 'flies.' Tim would ask his students, "What does 're' mean?" and instantly they would respond, "AGAIN!" The power of music took over Tim's classroom!
As Open House approached, Tim wanted his students to perform the songs for their parents. But there was only one problem. Mr. Bedley plays only the drums. His first thought was to invite a pianist in to accompany his students' singing. But who would be willing to come to school and practice and perform? AH-HA!! Tim figured he could talk a friend into playing the songs into a tape recorder. Well, he couldn't stop at that and ended up making a full-blown recording with complete instrumentation and vocals.
In April of 2006, Mr. Bedley passed out initial copies of his recording to all of his colleagues at Wildomar Elementary School. Soon after, more and more teachers wanted copies of his CD titled Singin' the Standards, so Tim decided to get the CD professionally duplicated and packaged and put it on CD Baby. Since then, Tim and his singing students have appeared in newspaper articles, TV News features, and The Costco Connection. Now, teachers and parents all over the nation are singing these very simple, yet incredibly effective, songs with their kids. Education will never be the same!
THEN, in August of 2007, Tim teamed up with Ben Jacobs, an amazingly talented rock musician, to redo the Singin' the Standards CD as a hard-hitting rock 'n' roll album. This time, Tim called it Rockin' the Standards. The new CD became available to the public in March of 2008. The first Rockin' the Standards CD contains 14 math songs with two new tracks, original tunes written by Ben. Look for the Language Arts CD in 2009.
Rockin' the Standards now books and plays live shows at school family nights in Southern California.
Listen to samples of Rockin' the Standards at www.rockinthestandards.com.
Below you'll find the lyrics to the "Angles Song" and "Parallel or Perpendicular" by Rockin' the Standards. See the Triangle Song performed here.
Angles Song
(Bingo Song)
There was an angle had a name
And Righty was his name-o
Square corner just like so
Square corner just like so
Square corner just like so
And Righty was his name-o
There was an angle had a name
And Acute was her name-o
Closed and cute just like so
Closed and cute just like so
Closed and cute just like so
And Acute was her name-o
There was an angle had a name
And Obtuse was his name-o
Open wide just like so
Open wide just like so
Open wide just like so
And Obtuse was his name-o
Parallel or Perpendicular
(Do Your Ears Hang Low)
Do you see parallel
Lookin' like a double 'L'
Lines that never cross
Never would as well
But when two lines come together
Makin' right angles, we yell…
Perpendicular
Rockin' the Standards YouTube link: www.youtube.com/user/rockinthestandards

UPDATE!
On Sept. 16th Rockin' the Standards hit #1 at Amazon.com for MP3 downloads