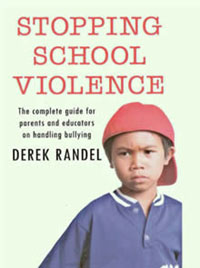 Stopping School Violence
As a teacher, you may lose your temper in class one day and, surprise!! You're on YouTube. Doing a web search you may find that someone has set up a myspace page just for you, surprise! Web sites commenting on teacher's sex preference, weight, and looks are being created every day. Welcome to the new world of cyberbullying the educator. Here are some tips for the educator to use and to share with students when faced with cyberbullying.
Have open discussions with students about cyberbullying
Encourage students to come forward and for bystanders to become involved
Teach bystanders how to become involved
Do not allow phones in school or class. Take them away
Encourage victims to keep all evidence
Teach students to avoid responding to threats
Never share passwords
Become involved to show support for the victim
Be aware: Many kids do not want to report this problem for fear of their parents. They believe the parents will take away their cell phone, computer, or Internet access.
Students are creatively setting up their teacher to lose control of the class. Then he is videotaped on their camera phones for uploading at YouTube

Don't leave your cell phones out.
Have you done a web search for your name lately or checked to see if a facebook account has been opened in your name? Many teachers are ridiculed on websites. Some mention their weight, race, looks, and threats of violence. Students have referred to teachers as pedophiles, suggested two others were having a lesbian affair and said their teacher should "lay off the heroin."
According to the President of the Canadian Teachers Association cyberbullying has become the number one non-academic problem facing classrooms today. The thought of a quiet, peaceful town like Mayberry is getting much harder to find nowadays.