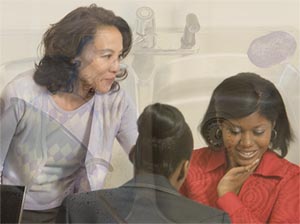 "We have to teach leadership," said Chino, California, High School teacher Elizabeth Williams. "It's in the state standards."
Learning how to work in groups, make decisions as a team, get along with diverse coworkers and resolve conflicts peacefully is woven into the curriculum of every high school subject in California. But since Williams is a Home Economics Careers and Technology teacher, she has found the most effective way to do this is through her department's co-curricular student organization, FHA-HERO.
FHA once was an acronym for Future Homemakers of America, and later became FHA-HERO to reflect its additional focus on Home Economics Related Occupations.
Now, it is so highly revered for its ability to develop leadership abilities, some students join FHA-HERO just for that reason alone. FHA-HERO helps 300,000 students at 750 schools throughout California, whether they plan on going into a home economics-related career field or not.
"I joined FHA-HERO because of all it has to offer," said Francisco Gutierrez, a recent graduate of Golden West High School in Visalia. "No other organization at Golden West had anything that could have prepared me to succeed the way FHA-HERO did."
Gutierrez learned a little about being a CEO, because he served as the chapter president of his FHA-HERO organization at Golden West during the 2007-08 school year. He also learned about healthy living, time management and effective communication.
Alicia Freude, the 2008-09 FHA-HERO Chapter President at Chino High School in Chino, wants to open a bakery after she graduates high school. So, while she values the education she receives in culinary courses offered through the Chino High Home Economics Careers and Technology program, the leadership experience she's gaining is just as valuable to her.
"I love organizing things, so organizing activities for people will be fun," she said. "I want to make a difference and motivate more people to join."
Prior to last school year, Alicia was more interested in soccer than home economics. But she took one course, and when she was asked to help a classmate prepare a salad for a FHA-HERO competition, she found herself hooked on how fun the organization could be.
In his Consumer and Family Studies course, which focused on healthy living, Gutierrez took on a project examining the various medications that can be used to treat Attention Deficit Hyperactivity Disorder, commonly known as ADHD. That turned out to be a highlight of his time in FHA-HERO, he said.
He so thoroughly researched this project, it earned him second place in a statewide competition of FHA-HERO students who had done various studies in Consumer Education. When the state competition's winner announced she wouldn't be able to make the trip, Gutierrez's efforts paid off with a trip to a national competition over the summer.
Alicia's classmate and Francisco were among hundreds of FHA-HERO members last year who took part in an important aspect of FHA-HERO, which is its Competitive Recognition Events program. Students compete in 21 different events, as diverse as salad preparation and consumer education, commercial food preparation and interior design, creating artful food displays and having the best documentation of what the chapter did in a year. State-level winners in this competition took home cash awards, scholarships and other prizes along with trophies and certificates.
Many FHA-HERO chapters provide diverse, meaningful activities for their students. For instance, at Chino High School, where FHA-HERO has been recognized as one of the state's Superior chapters for its many activities, active members put on assemblies for other students enrolled in Home Economics Careers and Technology courses, cater school events and participate in community outreach events, such as clothing drives for the area's less fortunate. Golden West High School also has been recognized for its chapter's diverse activities, along with many others in the state.
Monica Vargas, who served as Chino High School's FHA-HERO chapter president during the 2007-08 school year, said participating in FHA-HERO activities together is one of her most cherished high school memories. It's also an experience she knows will greatly benefit her now that she's moved on to college, she hopes followed by a career in fashion design.
"We worked together as a team, and by doing so we were able to reach out to people," she said. "We got more students to be involved in FHA-HERO, and we got the community involved in making Chino a better place to live. As the president, this gave me lots of leadership skills and communication skills. It also taught me to work my hardest for the team."
Additional information: http://www.hect.org/fhahero/