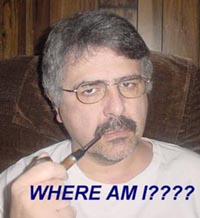 Hi there! My name is YENDOR and I live in Alabama, the land of good Looking women and high humidity.
I was a traveling piano picker for about 25 years, a radio jock and then backed into teaching. I taught sixth grade one year and then fifth gradefor twenty-seven years.
My hobbies are computer, collecting old radio shows from the 30's-50's, classic OLD TV shows, Asian horror movies, reading, collecting autographs, and music. My favorite singer/songwriter is Michelle Shocked. If you don't like her you don't like me. My favorite comedian is W.C. Fields. My favorite author is Mark Twain.
I play the piano, bass guitar and drums. I sometimes wish I had done that for a living.
I have a freakish sense of humor and rarely agree with anyone on anything. I love practical jokes and only play them on people I like... which is a short list.
I retired from teaching two years ago and don't miss it a bit. People come up to me all the time and say, "What do you DO all day?" I simply tell them that I retire.
If you are ever in northern Alabama, come by and see me. If you don't drink sweet tea you will be shot at the door. If you put a lemon in it you will be beaten but not shot... the first time.