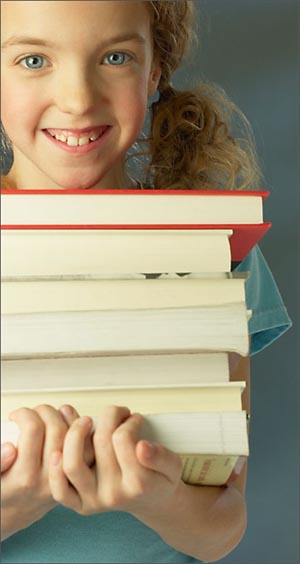 Stay in education long enough and you'll experience the swings of the pendulum as educational trends come and go and then come back again with new names! The good news is you will eventually use all of your materials again! It may be decades later, but you'll need them! Don't throw anything away!

Currently across the nation there's an obsession with test scores, standards and accountability. Take a look at any newspaper on any day and you will read about high-stakes testing. Can you predict future issues in education? I bet you can! Look into the future when test scores are deemed high enough. What will the issues be then? We predict that the media will report about a generation of students who can only take tests and can't "think" and solve real life problems!

Every teacher knows that as trends and philosophies come and go, many aspects of teaching don't change. Hasn't teaching always been a race against the clock as you try to fit everything into a packed school day? There has always been a huge time crunch.

Promoting reading and increasing students' skills has always been important to teachers. Increased demands on your time mean it's time to look at how we teach. Be discriminating about activities and ways you choose to teach. Make every minute count! Here are some easy-to-implement strategies to meet standards, promote reading and boost skills in your classroom!
Strategies to Meet Standards
At the beginning of the school year it is easy to remember which concepts you've covered with your students. Does everything begin to blur during the winter? Do you have those moments where you have no idea if you taught a particular skill to your class this year, last year, or only dreamed you taught it? Here are two sure-fire ways to keep organized and make sure you cover everything!
Skills Charts

Here's an easy way to keep track of all of the skills you need to teach in each subject area during the school year. Divide a large piece of chart paper into three columns. Label the columns: Skills to Teach, Introduced, Reinforced. Make skills charts for reading, writing and math. Write each specific skill you need to teach in each subject on small stick-on notes. Place them in the section of the chart labeled "Skills to Teach". At the end of each week take a look at your skills charts and move the stick-on notes with skills that you've introduced into the "Introduced" column. At a glance you can tell which skills you still need to introduced and reinforce. Refer to the skills charts when you make your lesson plans.

Standards at a Glance

Photocopy the standards for your grade level. Staple them inside your plan book. Each week, highlight the standards you have taught to your class. Skim through the standards every time you plan. You can easily identify standards that you need to cover.
Promote Reading
Think about the children in your class who are the best students. Aren't they also the best readers? Teachers know that children who are skilled readers tend to be the best students. That's why every teacher wants to promote reading among his or her students. Here are some instant ways to promote reading that require almost no extra effort! Try these quick-to-implement activities tomorrow!
Book Commercials

Each week grab ten books from different sections of your classroom or school library. Display the books in the chalkledge, a counter or a table. During the week, grab a book any time you have an extra minute or two and do a quick book commercial. Read the title aloud and randomly open the book to any page to share a few illustrations or read sentences. The more enthusiastic the commercial the more your kids will want to get their hands on these books! Over the course of the school year you'll have shown over 300 books to your students.

Book Clubs

Are you in a book club? I'm talking about the kind of book club where you get together with friends and discuss a common book that you've all read. Isn't it a lot of fun to talk about books that you are reading with others? Why not let your students enjoy the fun of being in a book club? It's easy to implement! Simply allow students who are reading the same books to have a three-minute discussion time at the end of silent reading time each day. You'll be amazed at the number of children who really get excited about silent reading when they know they'll have the opportunity to meet with their book club.

I generated a list of book club discussion questions with my students and posted the list on a classroom wall. Examples of questions:

What do you think will happen next?

Why do you think the character responded the way he or she did?

Would you like to have this character for a friend? Why or why not?

The question list helped increase the quality of the discussions. Shy children participated more easily when they referred to the list of questions.

Organize and Expand Your Classroom Library

Make it easy for kids to use your classroom library. Sort some of the books into labeled tubs by genre, author, illustrator, and theme. Put color-coded labels on the spines of some of the books to identify reading levels. (Printable book basket labels). Have some books that aren't sorted or labeled on the shelves.

How many books should you have in your classroom library? The number that seems to work best is to have at least 5 per child. Here are some easy ways to expand your classroom library:
Use book order bonus points to order books

Encourage parents to donate books to commemorate children's birthdays

Ask parents for donations of used books that their children no longer read
Boost Skills
Here are some proven ways to boost skills in your classroom. We know how busy teachers are! None of these ideas requires preparation time outside of school. My motto is to have a life beyond teaching!
The Top Two Strategies

The top two strategies to boost reading skills in your classroom are the easiest ones to implement! Simply increase the amount of time your students spend reading and incorporate more discussions about reading.

Teach Strategies Good Readers & Writers Use

Teachers know that all good readers and writers carry on internal dialogue and constantly interact with print. Why not teach these strategies to all of your students by modeling these practices?

At every grade level you can demonstrate these skills by thinking aloud when you're reading and writing. For example:

"I think I know what'll happen next…"

"This reminds me of…"

"I can tell that…"

"I'm confused. I need to read this page/paragraph again!"

"How do I spell that…does this look right?"

"What's a better way I can write this?"

Build Fluency and Confidence

One of the best ways to boost reading fluency and confidence is for children to read easy books. Have you noticed that many students seek out easy books and read them over and over again? Children love to feel successful and easy books make them feel like good readers. However, many parents want their children to be challenged at all times and don't understand the purpose easy books serve. Inform parents that easy books are valuable—they build confidence and fluency.

Choral reading, reading books that follow predictable patterns, and echo reading—where you read a sentence aloud and students echo you—are additional ways to boost fluency and confidence.

Read On!

Take a minute to think how you tackle unfamiliar words when you read. Do you read to the end of the sentence and determine word meaning through context? You probably do—that's what most good readers do! At every grade level, there are students who come to dead stops the minute they encounter unknown words when they are reading. Teach your students to make the beginning sound and then to keep reading to the end of the sentence. By the time they reach the end of the sentence more often than not they'll know the word. Model this highly effective strategy often! When kids are stuck, remind them to try this before giving them the word.

Effective Questions

During discussions, include a balance of literal and interpretive questions. Literal questions tend to be the kinds of questions that have one correct answer. An example of a literal question is, "What color was the boat?" Interpretive questions require more thought, insight and have more than one right answer. For example, "Why do you think the character acted that way?"

Vocabulary Builder

Think for a minute about the way you introduce new words to students. New words are easier for students to learn when they are given plenty of context before using the new word. For example, to introduce the word "sketch" with plenty of context you could say, "A quick drawing without a lot of details is called a sketch," rather than saying, "A sketch is a quick drawing without a lot of details."

Word Analysis

One of the best ways to build world skills is with word analysis. Word sorting and categorization activities help students learn to analyze words. Jot spelling words, words from literature, theme studies, social studies units, etc. on word cards. Use the word cards for word analysis. Make a set of word cards to match the words on your classroom word wall. For example, sort words by:
Meaning: baby, sister, mom (families) , classroom, teacher, recess (school)

Structural Analysis: syllables, prefix/suffix, plurals & singulars, contractions, tense, superlatives

Parts of speech: nouns, verbs, adjectives, etc.
Expectations and demands have never been higher. Don't get bogged down by these demands. There is so much more to teaching than obsessing over test scores. Keep your eyes open for practical, easy-to-implement strategies and tips to help your students excel. Don't forget to make some time for yourself as the school year gets going—you deserve it!
Sue Gruber
Barbara Gruber Online Courses for Teachers
www.bgrubercourses.com
Copyright 2008: Barbara Gruber Courses for Teachers