Every morning Barb/MI posts an inspiring or thought-provoking quotation selected especially for educators, referred to as an "Apple Seed," on the main chatboard. The "Apple Seeds" she posted during the month of July are compiled here...
Be sure to use the Printable link following this list to print out an attractive poster worthy of sharing with teachers and school administrators, and to file for use as a reference tool whenever you need a great quotation!
If all the cars in the United States were placed end to end, it would probably be Labor Day Weekend.
~ Doug Larson
In every phenomenon, the beginning remains always the most notable moment.
~ Thomas Carlyle
We cannot change the cards we are dealt, just how we play the hand.
~ Randy Pausch
Education is not the filling of a pail but the lighting of a fire.
~ William Butler Yeats
Education is simply the soul of a society as it passes from one generation to another.
~ G. K. Chesterton
The true teacher defends her/his pupils against her/his own personal influence.
~ A. B. Alcott
Good teaching is one-fourth preparation and three-fourths theatre.
~ Gail Goodwin
A good education is the next best thing to a pushy mother.
~ Charles Schulz
You ain't learnin' nothin' when you're talkin'.
~ Lyndon B. Johnson
True professional growth is the acquiring of both professional attitudes and skills – and moving to new levels of performance not experienced before.
~ Robert L. DeBruyn
No just cause can be advanced by terrorism.
~ Koffi Anan
What you cannot enforce do not command.
~ Sophocles
Education is what survives when what has been learned has been forgotten.
~ B. F. Skinner
Rules should be created to serve students, rather than designed so that students serve the rules.
~ Robert L. DeBruyn
We must never wipe out or deride the differences amongst us – for where there is no difference, there is only indifference.
~ Louis Nizer
The true art of memory is the art of attention.
~ Samuel Johnson
Just because you're in the driver's seat, it doesn't mean you have to run people over.
~ Randy Pausch
The unfinished is nothing.
~ Henri Frederic Amiel
No life is so hard that you cannot make it easier by the way you take it.
~ Ellen Glasgow
All that we do is done with an eye to something else.
~ Aristotle
High achievement always takes place in the framework of high expectation.
~ Jack Kinder
Smart is believing only half of what you hear. Brilliant is knowing which half to believe.
~ Unknown
Reading is to the mind what exercise is to the body.
~ Joseph Addison
Your critics are often the ones telling you they still love you and care about you and want to make you better.
~ Randy Pausch
Everyone must take time to sit and watch the leaves turn.
~ Elizabeth Lawrence
No person was ever honored for what s/he received. Honor has been the reward for what s/he gave.
~ Calvin Coolidge
Knowledge . . . and thankfulness will lead to abundant joy in our everyday life.
~ David Havard
Thanks are the highest form of thought. ~ Gilbert Keith Chesterton
Our progress as a nation can be no swifter than our progress in education. The human mind is our fundamental resource.
~ John F. Kennedy
There is no person who cannot do more than s/he thinks s/he can.
~ Henry Ford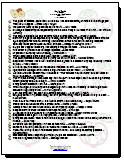 Printable "Apple Seeds" in pdf format


» More Gazette articles...