Cover Story: Eric P. Jensen



A Fresh Look at
Brain-Based Education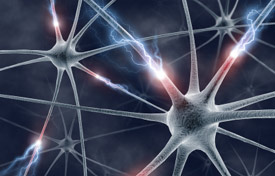 It has been more than 20 years since it was first suggested that there could be connections between brain function and educational practice. In the face of all the evidence that has now accumulated to support this notion, Mr. Jensen advocates that educators take full advantage of the relevant knowledge from a variety of scientific disciplines.


Articles


Curriculum Happens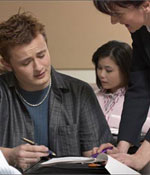 The kids in our classes learn what we teach them, not what we want to teach them.



Curriculum is what schools do to kids. When kids go to school, curriculum happens. Everything schools plan to have happen to kids is curriculum. Everything that kids experience while in school is also curriculum. Here is a fresh, comprehensive, often neglected or forgotten view of curriculum.



By Bill Page




Spam, Spam, and
More Spam!


We all get it and we all hate it. Some say it can actually make us sick. What is it and how do we cope?



By Tim Newlin




FHA-Hero Program Creates Leaders


Not your mama's home ec class, the multi-faceted FHA-HERO program teaches business and leaderships skills in addition to home economics and consumer education.



By E. Porter




October Writing Prompts


A queen becomes "King."Miss Pepper weds Mr. Salt. Mary Hays becomes Molly Pitcher. Fascinating facts provide reasons for writing!



By J. Wayne




An Approach for
Disruptive Behavior


Practical remedies for eliminating disruptive behaviors in the classroom by developing and applying a customized behavior intervention program.



Lisa Bundrick



More Than A Desk:
Changing the Learning Environment



With help, the quiet, marginal student who falls invisibly between the cracks can love learning. Here's how to recognize and light a spark for those who have ability, but lack interest.



Mamie Pack



Computers in the Classroom


Even with a low budget, old computers and no Internet connection, there are ways to make the most of...



P.R. Guruprasad



Silent Mentoring



Silent Mentoring is a program currently being implemented by many schools who are concerned about students who do not appear to be connected. These isolates have few friends and spend much time alone.



Moorman and Haller




Cyberbullying Tips
for Educators


Even educators are vulnerable to online bullying. The author of Stopping School Violence offers advice.



Derek Randel




Perfectly Normal


A mother's lesson, "Never give up!" bolstered Michael through dozens of surgeries and inspired him to find his true calling: teaching.



M. Biasini




Streaming Video
Teachers.Net Video Bytes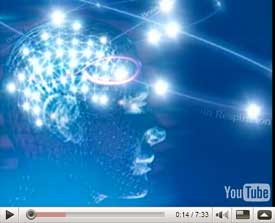 Applying brain-based learning strategies; Critters celebrating TGIF! Rockin' the Standards, Star Trek rap, and 21st Century skills are this month's short video treats! Also, a form for suggesting YOUR favorite streaming videos!


Teachers.Net Community



The Teachers.Net Newsdesk

The Lighter Side of Teaching

School Photos: October 2008





Harry & Rosemary Wong



Boaz City Schools:
Professional Learning Teams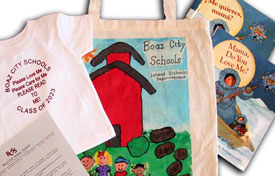 "Welcome to the world and to our special community in Boaz, Alabama!" greets every newborn delivered in this unique city. Before Baby has left the hospital, a county health official delivers a gift from the Boaz City School System to the newborn and the parents.
Columns




Teaching Literacy


Change Is Not Just for Politics



New research supports what many teachers have understood for a long time: in order to teach children how the read, the curriculum must include lots of writing and writing instruction.



By Cheryl Sigmon




Are you an Informal Teacher-Leader?


When teachers have the desire and take the initiative to use their talents to accomplish something they believe in -- something that will make a difference not only in the classroom butalso inthe hallways, grounds, and the school community as a whole -- they are Informal Teacher-Leaders.



By Hal Portner




Instant Ideas for Busy Teachers


Strategies to Meet Standards, Promote Reading and Boost Skills


Make every minute count with these easy-to-implement strategies



By Sue Gruber




Helping Children
Cope with Loss


The death of a parent, family member, friend or even a pet can be devastating to a child. Yet, there are actions school counselors and teachers can take to help.



By Leah Davies




The Future Votes Now


Experts say our future voters need three things: The ability to cope with massive amounts of information, effectiveness at global communications, and self-direction of their own learning and organization.



By Todd Nelson




Promoting Learning & Discipline


The Brain and Sleep


Our brains are busy while we sleep! Dr. Marshall discusses how the brain works during sleep, and how much sleep we REALLY need.



By Dr. Marvin Marshall




The Busy Educator
The Busy Educator's Monthly Five



From free biology posters to world cultures, this month's offerings are sure to appeal to students and teachers everywhere!



By Marjan Glavac





Advice for Substitute Teachers
Dear Barbara...



How much should I tell students about myself? & How can I keep the class quiet during independent work times?



By Barbara Pressman





Coaching The Urban Educator


My Supervisor Hates Me! & Are These Kids Just Crazy?


Kioni coaches two NYC school teachers on how to address a negative supervisor and how to build "therapy" into lesson planning.



By Kioni Carter





Features




Featured Lessons
Explorers, map skills, fire safety, pumpkins, and a special request



October gems from the Teachers.Net Lesson Bank, a treasure trove containing more than 4,200 lessons and activities!





T-Net Recommends
Teacher Starts Rock Band to Help Students Learn



Rockin' the Standards math songs are an engaging method for helping pre-teens remember otherwise mundane math concepts.





Free Downloads
Printable Worksheets & Teaching Aids



Free printable worksheets and teaching aids from your colleagues on Teachers.Net.





Teaching Guide
Teaching Guide: Night Journey to Vicksburg



Cook up some Civil War era dishes during the study of a young slave's quest for freedom.



By Susan Rowan Masters




Collective Wisdom 1


Alternatives to Halloween Party and Costumes


Break away from the same old plastic masks and gooey candy with one or more of these terrific ideas gleaned from the Teachers.Net Mailrings!



Teachers.Net Community





The Gazette is a collaborative project published by the Teachers.Net community. Submit your work to the Gazette.