Teachers.Net asked:
If you were given a magic wand, a million dollars, or just the authority to make any ONE change in your school, what would it be?
Teachers responded with wishful thinking and constructive criticism.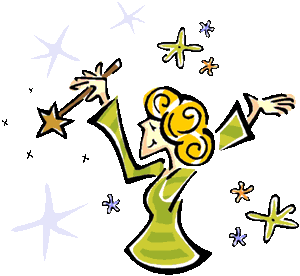 Keeping in mind that this is a middle school A master schedule of classes would be developed around the needs of students NOT money or numbers. For instance, some kids prefer early mornings, they would have the opportunity to have classes then and go home earlier. Others prefer later schedules, they would have the opportunity to come to school later and leave later. Students' assignment to classes and teachers would be based on how they best learn and who can best provide that environment. Students would have the opportunity to complete classes at different rates. A high school near me is already doing this. Algebra now has three different classes, one where they take it in a normal year long schedule, one where they break it into two years worth of classes and one where they finish in a half of a year. ~Posted by Tina/8th

I would ask that every child would have parents/guardians that were involved in their children's lives and education. I would ask that schedules be made with education as the purpose, not formed around athletics. ~Posted by Jack/AR

I agree with Jack about the involved parents/guardians. And, if it wouldn't be asking too much, I'd ask that we be free to teach, rather than test. ~Posted by mrsd

A lower number of students per teacher. ~Posted by anon

Add classrooms, teachers and course offerings. Most of our core classes are pretty small, but our elective classes are crowded. Students need more choices other than just athletics, band, and art. ~Posted by Kim/AR/math

I would like for someone to truly value me for the job I have done. I do not want to be valued for my smile, my discipline, responsibility, looks, professional dress, nor opinion. I GET that. I want to be acknowledged that my classes, MY CLASSES, the regular, NON-AP classes have soared in test scores for the past three years. Soared higher than before I was there.
Of course I teach the subject and keep records and analyze data and look at previous data from years back because I am conscientious or anal or hardheaded, but I always want my kids to do better and because they do... .they just magically do. No one noticed that when I taught freshmen, 94 percent passed the state exam. I jumped to juniors the next year. The next year that group became sophomores and dipped to 86 percent. I got them again last year as juniors and the exit scores were at almost 95 percent. Did anyone see a pattern? Nope. That would have meant that someone was analyzing data other than me. Does this sound like a brag-fest? It isn't. I just want someone to value me as an EDUCATOR!!! And hey....that doesn't cost a penny. ~Posted by Nicole

Cameras in the classroom, which would monitor student behavior, as a part of some excellently developed plan of consequences for purposefully breaking the rules. ~Posted by Zhel

Lower the number of students per teacher. ~Posted by Liz/AK

Eliminate API and AYP. ~Posted by jane eyre

Reduce the teacher-student ratio, provide more alternative education solutions going down to the elementary years, provide more genuine and effective counseling for the students who need it, also all the way down to the elementary level. ~Posted by LBP

All children would be able to achieve at their grade level if only I had a magic wand. ~Posted by Unsigned

I would involve teachers in problem-solving and decision-making -- at the very least, let teachers know what is going on and why. ~Posted by jme

Do away with the "almighty" test! ~Posted by Cat

I would have kids coming in having mastered previous standards. ~Posted by unsigned

Stricter discipline with consistent consequences. ~Posted by Anon.

I work for the district and I want to fire the incompetent principals. ~Posted by Helen/HS/La

I would replace our present ineffective principal with someone who actually has KNOWLEDGE of educational practices and can inspire us to achieve our goals. My school needs someone who can deal effectively with students, parents, and teachers. This person would also represent our school in a positive way to the school board and the district office. ~Posted by aggie1ca

NO more than 18 kids in every class. ~Posted by Debbie Ann

If I could only change one thing it would be to place students in classes based on achievement rather then by age so that a student who was 10 and capable of doing 4th grade math, 6th grade science and SS, but was capable of doing only 3rd grade English would be in those classes rather then being placed in a 4th grade room with a teacher having enrich science and SS and modify English. (I would however advocate that there should be no more then a 3 or 4 year age span in any one class.) I have never seen education as a race; children don't all develop the same skills at the same age, so why do we group them as though they do? If we grouped them by their own individual achievement, not only could they move at their own pace but we wouldn't need nearly as many ieps or gifted classrooms and teachers would actually get classes full of students on or about on the same level. Wouldn't that make life easier? Of course this would require that schools themselves actually be revised so children didn't have to change schools to change classes. So instead of having huge jr. highs and high schools fed by smaller elementary schools, the schools would need to be restructured into neighborhood schools from k to 12. Private schools frequently have K - 12 in one building. I have never understood why private schools separate elementary, jr. and senior high the way that they do. ~Posted by mama maria

If I were given the magic wand as a citizen, I would employ these three changes first:
I would reauthorize IDEA 2004 to remove the LEA (Local education agency, a.k.a. the public school or school district) as the same entity doing the identification, evaluation, IEP design, and allocation of resources for students that qualify for special education and/or related services. This task would be given to a neutral third party who is neither employed by the public LEA or the parents of children with disabilities. Public schools and school districts would be responsible for the collection of anecdotal data only.
I would make public education's priority the teaching of academic, fine arts, and vocational courses. I would move the implementation of such courses into the 21st Century by providing a computer to every student.
I would remove the extra curricular programs for athletics, marching band, cheer/pom from the public school district's budget all together. These programs could still exist within public schools across the country, but the resources to run these programs would not come out of a public school district's budget. The resources would come from separate state/county/city/town budgets of which parents of students who participate in them pay a sliding scale fee based on their annual income.
~Posted by PAG

Lower the tuition, raise teachers' salaries and buy new technology. ~Posted by Pogo

A new building. We are overcrowded and under-electrified with pathetic playground equipment. ~Posted by Emmy

Out law high stakes testing and use them as they were intended as 1 way to measure achievement. ~Posted by Anonymous

The world would no longer depend on one test score. Oh yeah, can we get rid of all the lousy administrators? ~Posted by Anonymous

The world would no longer depend on one test score. Put a stop to unethical, unlawful actions by school district, union, principals and AP's. ~Posted by Nic

Editor's note: Please add your response on the Discussion forum http://teachers.net/gazette/discussions/NOV08/poll/submit.html