Teachers.Net Lesson Bank: One Bank Guaranteed Not to Fail You!
Featuring more than 4000 submissions, from complete standards-compliant lessons to fascinating ideas for tiny but perplexing teaching challenges, the Teachers.Net Lesson Bank is quite possibly the greatest single teacher resource anywhere on the Internet.
Every lesson plan and idea in the database was submitted by teachers just like you - teachers with great ideas and a big heart - enthusiastically passing along the secrets that help them master their craft.
The searchable data base is supremely simple to use. Just type your topic or keyword into the search box, click and watch the results pour forth, ready to implement in your classroom.
Please deposit your best lessons now! If you have a great lesson plan, from formally constructed to the most simple idea for conveying difficult concepts with verve and permanence, we encourage you to submit your lesson plan to the Lesson Bank. Your ideas can live on in perpetuity, and you can teach thousands of students whose names you will never know. We love to watch the latest submissions and hope to see your classroom secrets enhance this special collection of lesson plans and ideas!
Conservation Biology for the Classroom
Online course presented by the Bronx (NY) Zoo
bronxzoo.com/educators/online-professional-development.aspx
Why should we protect wild nature? What is threatening biodiversity? How do populations change over time? How do scientists go about protecting wildlife? Who is doing the work of conservation? These are just some of the questions that will be investigated through this online course from the Wildlife Conservation Society. In this course, participants will explore how to bring conservation into the classroom while learning from one of the most prestigious conservation organizations in the world.
Online Resources for Writers – Amherst College
www.amherst.edu/academiclife/support/writingcenter/resourcesforwriters As with many other colleges and universities, Amherst College is dedicated to helping their students become excellent writers. In order to accomplish this goal, they have created a fine set of online resources for use by their own students and members of the web-browsing public. This particular set includes a long list of resources created by staff members at Amherst and at other institutions. These resources are divided into thematic headings such as "Preparing to Write", "Thesis and Argument", "Clarity and Grace", and "Using Sources". On the left hand side of the page, users can view the same list and also learn more about the writing center at Amherst and their work. Overall, it's a fine set of resources, and one that college students in particular will find useful, especially as they approach a paper deadline. [Copyright 2008 Internet Scout Project - scout.wisc.edu]
Free Printable Posters
www.sbac.edu/~tpl/posters/posters.htm
Here's a site offering 52 free printable posters (in addition to posters offered for a fee, though we couldn't find ordering information). Thank you to the person on one of the 150+ teacher chatboards who alerted us to the site. Planets, food pyramid, calendar templates, helper charts, MLK, Jr., maps, presidents, classroom signs, etc.
Free Printable Paper
http://www.printablepaper.net/
Hundreds of papers you can download and print for free. Includes many kinds of graph paper, lined paper, financial paper, music paper, stationery and an assortment of teacher resources such as attendance sheets, roll papers, grade book pages, lesson plan sheets, seating charts, more. In addition, there are free printable business card templates you can personalize and print. Plus fax xheets, award certificates, gift tags. Dozens of printable coloring pages include maps, animals, insects, holidays, people and places, many more. Worth a look.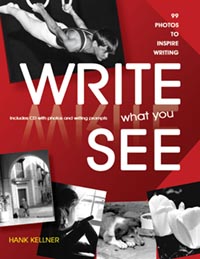 Write What You See: 99 Photographs to Inspire Writingby Hank Kellner is solution to the "I Don't Know What To Write About" blues

By Liz Guy

It's bad enough when professional writers experience writers' block. But when students shake their heads and complain that they're at a loss for ideas about which to write, it's even worse. Indecision leads to frustration, and frustration leads to resignation. The result? Mediocre compositions that are little more than feeble attempts to complete writing assignments.

In Write What You See: 99 Photographs to Inspire Writing, retired teacher and freelance writer-photographer Hank Kellner offers a solution to the problem that's sure to help students jumpstart their thought processes while at the same time stimulating their imaginations. Each page contains a famous quotation, one or more black and white photographs, and a variety of writing prompts and suggestions that are sure antidotes to the "I don't know what to write about" blues.

Students at many different levels of competency from middle school through college will find the quotations, photos, and prompts to be a valuable source of inspiration. What's more, teachers who prefer a less directive approach can simply show the photos without comment. In this way, the students will be able to generate their own responses based solely on their impressions, experiences, and memories.

According toPatricia West, Department Head, Savannah Technical College,"Write What You Seeis a testament to the National Writing Project's tried and true flexible workshop model. It illuminates the point that school reform methods do not have to come from a scripted program, but rather that improvement processes should invite teachers and instructional leaders to take charge of writing instruction. This book can help teachers reach at-risk and reluctant student writers who need only a chance to see and imagine. Hank Kellner's book should inspire teachers— especially new teachers in search of best practices— to imagine such a declaration of academic freedom."

Mr. Kellner offers some of the tips from his book in his article here.

The book will be available directly from Cottonwood Press early in 2009.

NJ "Know the Bear Facts" Education Seminars, Printables – Free!

The New Jersey Department of Environmental Protection's Division of Fish and Wildlife offers "Know the Bear Facts" education seminars to schools throughout New Jersey in order to teach students about black bears. "Black bears have been sighted throughout New Jersey and it is important to know the facts about co-existing with bears."

The 1 hour program includes an audio/visual presentation, a Q & A period, a few show-and-tell items. Students learn about the history and biology of the Garden State's largest land mammal, about bear research and receive practical information on coexisting with black bears, which includes safety tips. The program can be tailored for time frame requirements and to suit the age of the audience.

The following publications are also available:
Bear Facts for Kids pdf
Bear Facts pdf

To inquire about scheduling a bear education seminar for your New Jersey school, please contact Michelle Ruggiero at (908) 637-4125 or Michelle.Ruggiero@dep.state.nj.us.

NOTE to New Jersey teachers: Swap ideas, find support, discuss issues unique to education in NJ on the New Jersey Teachers' Chatboard and the New Jersey Teachers' Mailring.