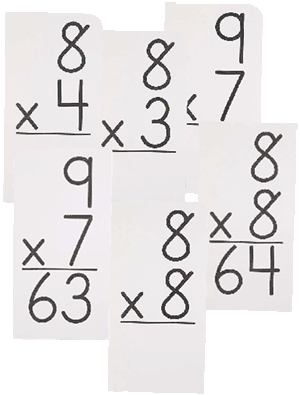 It was clear by fourth grade that, for me, a career in math was just not in the cards—the flash cards. When Miss McCormack had the parent-teacher conference with my mom and detailed my struggle with multiplication facts, it was intervention time.

"Todd's just got to memorize them," she said. And so began the evening ritual with the big deck of times table cards. I can still conjure the scene: the living room sofa and lamp and the steady parade of numbers multiplied before my eyes.

It was a chore; it made me cranky—but knowing the facts of multiplication was a life skill I needed to acquire. Fortunately, however, my parents also realized that math was an area of weakness for me that was probably not worth fighting over. My affinities in other areas stood a better chance of long-term success. In other words, it was becoming clear what kind of mind I had. They had an intuitive sense that there was a reason I was drawn to certain tasks, and not others. Nonetheless, the flash cards continued, thank goodness.

In our Adams School faculty meetings, we've been talking about assessing individual skills and weaknesses, and how best to serve both in school. How can we help Imogene show her depth of knowledge about dinosaurs, for instance—writing, speaking, or drawing? How can Ivan best demonstrate to us his understanding of celestial mechanics—a five-page essay on the solar system, Styrofoam model, iMovie, or talk? Is time or quantity the best gauge of Sylvia's expository writing skills? For boys, making models might be a better expression of their skills in the same subject that girls like to write or talk about. Pediatrician Mel Levine calls it "many kinds of minds."

Our discussion was focused by a recent interview with Levine in Education Leadership. "Within any school you can almost divide the student body into students who are well-rounded and those who have highly specialized minds," he says. "We often punish the ones who have highly specialized minds. I'm not saying that kids ought to get out of anything. Everyone needs to become mathematically literate, even if math is anathema to them."

Knowing what to look for is critical. "If you have a kid in your class who's doing miserably on word problems, you can ask, 'Is it factual memory? Is it procedural memory? Is it pattern recognition? Is it sentence comprehension?' You can pinpoint where the breakdowns occur," says Levine. "And no one's in a better position to do this than a well-trained classroom teacher."

Observing a child's natural affinities is key to defining the strengths and skills that deserve emphasis. "An awful lot of important skills can ride the coattails of your affinities," says Levine. "If you combine affinities with strengths, you begin to carve out a potential career."

Sometimes it's the unstructured moments when affinities emerge. Recesses spent observing monarch chrysalises, drumming on five gallon buckets, and playing four-square could have much to do with a life-long affinity. They may be as valid an indicator for some kids as what's occurring in the classroom—and there's plenty occurring in each and every classroom, for each and every kid!

A recent American Academy of Pediatrics report finds that "free and unstructured play is healthy and, in fact, essential (AAP)." So we should all be careful observers of what a child's affinity is teaching us and them about who they are, what kind of mind they have. They are beginning to declare who they will be. Play is serious business.

Alas, even Dr. Levine would have prescribed flash cards in my case. Pattern recognition came slowly that year. But in fifth grade, everything changed: Mr. Lynch assigned the Egypt writing project. The rest is history… and language arts.