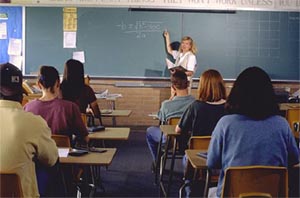 I LOVE MY JOB!!! It's a good thing I love my job, I just checked the status of my retirement account. The way things are looking with our crazy economy, I don't think I'll ever be able to retire!
Positive person that I am, I decided to focus on how lucky I am to get to be a teacher for the rest of my life! Who wants to retire anyway? What would I do with all that time? More importantly, what would I do with all my teacher stuff?! What would it be like to shop at the end of summer and not throw a single back-to-school item in my cart? The more I think about it, the more I realize that I love being a teacher!
Here are the things I love about teaching:
Teaching is rewarding! We really do make a difference in the lives of the children we teach. Is there anything better than notes from parents telling you how much they've seen their children learn and grow with your guidance? Or, have you had students come back years later and tell you that you were their favorite teacher? It's humbling! It can also be shocking! One of my former fourth grade students is now a substitute teacher. How is it possible that the shy, nine year old girl that I taught is now a strong, confident thirty year old woman? Of course when you start your teaching career at age eleven like I did, these things are bound to happen! (I love it when Amy subs at my school. She's a great teacher and I'm so proud of her! It's funny, no matter how hard she tries; she just can't bring herself to call me by my first name!)
Teaching keeps you young! Think about all of the things that your non-teacher friends are totally out of the loop on. Chances are you are an expert in these areas:
superhero and action figure identification
the plots of hot kid movies and books
the lifecycles of obscure insects
trendy children's names and the variety of ways to spell the trendy children's names
There's never a dull moment… especially in kindergarten! No two days are ever alike. You can't make stuff up that's as funny as some of the things kids say at times. We've been learning about farms in kindergarten. A very spontaneous and lively discussion broke out among the children about the anatomically correct names for certain bovine body parts. Sammi told everyone that the milk comes from the "otters." Bella began producing theories about how the milk gets from the cows to the otters in the ocean. Meanwhile, Jack corrected her and reported that they are really called "gutters," not "otters."
Teachers are celebrities! Really! Have you ever been spotted by one of your students when you're at the grocery store or at a restaurant? Note the star struck looks of awe on their faces. There are two fairly standard reactions by students when they run into their teachers:
The student screams and comes hurtling towards you at full speed demanding to know why you aren't at school. Never mind that it's a Saturday! (There's definitely a Murphy's Law aspect when it comes to running into your students at the grocery store. You will always be in a disheveled state AND you will have a cart full of embarrassing items, i.e. wine, People Magazine and maxi-pads!)

They are rendered 100% speechless. They blush, hide behind their parent and are unable to make eye contact with you. Of course this is the same kid who just hours earlier was downright sassy and wouldn't stop talking.
I'm one of those annoyingly upbeat types. You know the type of person I mean—the one who believes that everything is wonderful and there's always a bright side. I tend to think that things usually do have a way of working out for the best. I have to admit that my positive outlook has been rattled lately. Turn on the news or pick up a newspaper and it's nothing but scary economic forecasts, grim environmental predictions, strained foreign relations and political shenanigans.
During these uncertain times, I'm truly thankful that everyday I get to forget about the rest of the world and focus on children and learning! Take a minute and think about all that's right and good in the world of your classroom! Here's to a wonderful November!
Sue Gruber
Barbara Gruber Online Courses for Teachers
www.bgrubercourses.com
Copyright 2008: Barbara Gruber Courses for Teachers