Every morning Barb/MI posts an inspiring or thought-provoking quotation selected especially for educators, referred to as an "Apple Seed," on the main chatboard. The "Apple Seeds" she posted during the month of October are compiled here...
Be sure to use the Printable link following this list to print out an attractive poster worthy of sharing with teachers and school administrators, and to file for use as a reference tool whenever you need a great quotation!
You've got to get the fundamentals down, because otherwise the fancy stuff is not going to work.
~ Randy Pausch
Wise people don't need advice. Fools won't take it.
~ Benjamin Franklin
Those who never retract their opinions love themselves more than they love truth.
~ Joseph Joubert
A misty morning does not signify a cloudy day.
~ Ancient proverb
People who never get carried away should be.
~ Malcolm Forbes
From their errors and mistakes, the wise and good learn wisdom for the future.
~ Plutarch
The great thing in this world is not so much where we are, but in what direction we are moving.
~ Oliver Wendell Holmes
If you dispense your own wisdom, others often dismiss it; if you offer wisdom from a third party, it seems less arrogant and more acceptable.
~ Randy Pausch
It is not easy to find happiness in ourselves, and it is impossible to find it elsewhere.
~ Agnes Repplier
Efforts and courage are not enough without purpose and direction.
~ John F. Kennedy
If you really want to be happy, nobody can stop you.
~ Sister Mary Tricky
A positive attitude may not solve all your problems, but it will annoy enough people to make it worth the effort.
~ Herm Albright
Keep your fears to yourself, but share your courage with others.
~ Robert Louis Stevenson
All things good to know are difficult to learn.
~ Greek proverb
If you can find an opening, you can probably find a way to float through it.
~ Randy Pausch
A book is not twelve ounces of paper and ink and glue – it is a whole new life.
~ Christopher Morley
Take the first step in faith. You don't have to see the whole staircase, just take the first step.
~ Martin Luther King, Jr.
A person can know nothing of humanity without knowing something of herself/himself.
~ Benjamin Disraeli
You can become blind by seeing each day as a similar one. Each day is a different one, each day brings a miracle of its own. It's just a matter of paying attention to this miracle.
~ Paulo Coehlo
I know not how I may seem to others, but to myself I am a small child wandering upon the vast shores of knowledge, every now and then finding a small, bright pebble to content myself with.
~ Plato
Autumn is a season followed immediately by looking forward to spring.
~ Doug Larson
Never make a decision until you have to.
~ Randy Pausch
The recipe for perpetual ignorance is a very simple and effective one: be satisfied with your opinions and content with your knowledge.
~ Elbert Hubbard
The more you use your brain, the more brain you will have to use.
~ George A. Dorsey
Injustice becomes the carefully constructed dams that block the flow of justice.
~ Martin Luther King, Jr.
Know how to listen, and you will profit even from those who talk badly.
~ Plutarch
A person who does not trust herself/himself can never really trust anyone else.
~ Cardinal de Retz
Lawful and settled authority is very seldom resisted when it is well employed.
~ Samuel Johnson
When you are screwing up and nobody says anything to you anymore, that means they've given up on you.
~ Randy Pausch
True friends can grow separately without growing apart.
~ Elizabeth Foley
A grandmother pretends she doesn't know who you are on Halloween.
~ Erma Bombeck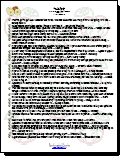 Printable "Apple Seeds" in pdf format


» More Gazette articles...