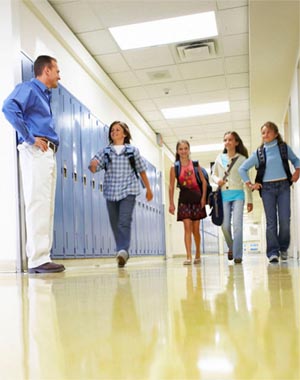 The impact of violence becomes ever so real when kids are asked about their experiences. Have you asked your class lately how many of them have seen someone killed in their neighborhood? Or if they know someone in school who carries a gun or a weapon? Or whether they have family members in jail on drug-related charges or for performing some sort of violent act? I am sure a few students have even experienced the pain of suicide in their family or within their circle of influence. You will be amazed at the staggering numbers of kids who are impacted by violence and crime in some shape, form, or fashion.
Consider this, as well: Teachers who are aware of reality and continue to pursue a career in education are truly brave. The bravery, however, is not the willingness to face the violence but, rather, the acknowledgment of its presence and being prepared to offer clarity and wisdom during times of conflict and confusion. I worked in an organization where all the youth workers were taught that their primary responsibility when working with youth was to be an island of clarity in a sea of chaos. So many kids face stormy days during a school year; it is essential that teachers provide clarity to help them navigate to a safe place.
A good teacher can deter and decrease the likelihood of someone being hurt, harmed, or targeted. The very presence of a caring, relational, and effective teacher provides a sense of family, safety, and security—the very environments that many young people never experience during their childhood or teenage years. I have had numerous students tell me that they would much rather stay at school than go home or be back in their neighborhoods. Schools must provide these environments; that is, if kids are going to have any chance at all to make it through life or, in some instances, the next day.
Safe, secure, and vibrant educational communities can be created only when the ranks of brave educators vow to step in to be the alternatives to the chaos, to confront the chaos and help students steer through it successfully. This type of bravery is more connected to the heart and soul of the teacher than it is to any physical attributes, such as muscle, speed, or agility. Change agents not only provide a means for change but a means for hope and an undying willingness to stay put when others leave. Good teachers are change agents, and they stand in the gap when others run away.
I am confident that somewhere in this country a drive-by was avoided, a robbery was reconsidered, or a suicide attempt was abandoned because a teacher was willing to show up and make a difference in the classroom, administrative office, after school activity, or at the home of a child. Teachers are brave, and I am glad to be among the millions fighting for the lives of our kids every day.




About Graysen Walles...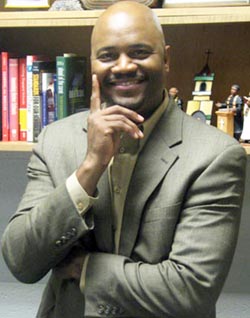 For the past 20 years, Graysen Walles has achieved notable accomplishments across a diverse industry spectrum, delivering stellar performance in the military, non-profit, and education segments. After honing his expertise in strategic planning, operations, budget management, program development, and personnel for the U.S. Air Force and two non-profit organizations, Graysen made a smooth professional transition to public education.
Initially cast in the role of Paraprofessional in a middle school, Graysen quickly advanced to a certified teaching position in the area of Special Education at the high school level. While in the role of classroom teacher, he developed curricula and led instruction in the disciplines of micro and macroeconomics, geography, and English language, creating learning frameworks that accommodated a range of learning styles for both mainstream and special education students.
While successfully managing his teaching responsibilities, Graysen took the lead in district- and school-wide improvement, fueling the critical relationship-building process with parents and members of the community to unite stakeholders in a common vision and goal and make progress towards building a cutting edge youth leadership program focused on higher performing students enrolled in under-resourced communities. The program, The Elite Scholars, actively engages over 350 students from all walks of life. The common goal of these students is to perform with excellence in the areas academics, service, faith and leadership.
Graysen achieved his doctoral degree from Fielding Graduate University; Master of Divinity at The Southern Baptist Theological Seminary and B.A. from Wayland Baptist University. He currently serves in the United States Air Force Reserves and works as a school administrator in Atlanta, GA. Graysen is married with three sons and they reside in Atlanta, GA.
He is the author of the soon to be released book, Teaching: The Greatest Career on the Planet (April 2009). Please visit him at www.theteachersmovement.com; www.elite-scholars.com or www.choicesmatterdf.org. Join the Movement.



Graysen Walles Articles on Teachers.Net...


Related Resources & Discussions on Teachers.Net...

Teacher Chatboards