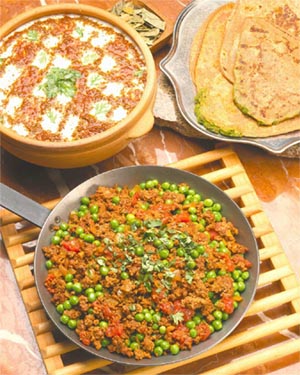 Vegetable Casserole


Posted by AM
2 cans peas
8 oz cream cheese
6 slices of cooked bacon crumbled (ham works well too)
1/4 cup milk
I warm the cheese in the microwave just enough to soften. Mix in the milk. While you are creaming those together, heat up the peas. Add the crumbled bacon to the cheese mixture then add that to the hot peas. Mix well, put in a serving dish cover and cool. You can sprinkle some paprika on it for color before you take it to the event.

Horseradish Meatloaf


Posted by wig
2 pounds ground beef (I use 85% lean or chuck)
2 eggs, lightly beaten
1/2 C. dry bread crumbs
1/2 C. ketchup
1 T. horseradish
2 t. Worcestershire sauce Sauce
1/2 C. ketchup
3 T. brown sugar
1 T. horseradish
Preheat oven to 375 degrees.

In a large bowl, mix all meatloaf ingredients together well (Although messy, it's easiest to do this with your hands). Press meat mixture into a 9 x 5 inch loaf pan or form into a freestanding loaf in the center of a baking sheet.

In a separate bowl, whisk together the sauce ingredients. Spoon half of the sauce mixture on top of the meatloaf. Place meatloaf in a preheated 375 degree oven and bake for 50 minutes.

After 50 minutes, remove meatloaf from oven, spoon remaining sauce over the top and return to the oven for 10 minutes. Remove from oven and let cool for an additional 10 minutes before slicing.
We like the leftovers for sandwiches
I have a breadpan with a liftout grease catcher so the meatloaf is not sitting in the fat from the meat as it cooks.

Chicken Tamale Casserole Recipe


Posted by Mississippi Gal

Yield: 8 servings

Ingredients
1 cup (4 ounces) preshredded 4-cheese Mexican blend cheese, divided
1/3 cup fat-free milk
1/4 cup egg substitute
1 teaspoon ground cumin
1/8 teaspoon ground red pepper
1 (14 3/4-ounce) can cream-style corn
1 (8.5-ounce) box corn muffin mix (such as Martha White)
1 (4-ounce) can chopped green chiles, drained
Cooking spray
1 (10-ounce) can red enchilada sauce (such as Old El Paso)
2 cups shredded cooked chicken breast
1/2 cup fat-free sour cream
Preparation
Preheat oven to 400°.

Combine 1/4 cup cheese and next 7 ingredients (through chiles) in a large bowl, stirring just until moist. Pour mixture into a 13 x 9–inch baking dish coated with cooking spray.

Bake at 400° for 15 minutes or until set. Pierce entire surface liberally with a fork; pour enchilada sauce over top. Top with chicken; sprinkle with remaining 3/4 cup cheese. Bake at 400° for 15 minutes or until cheese melts. Remove from oven; let stand 5 minutes. Cut into 8 pieces; top each serving with 1 tablespoon sour cream.
Nutritional Information
Calories: 354 (36% from fat)
Fat: 14.1g (sat 7.1g,mono 3.3g,poly 1.2g)
Protein: 18.9g
Carbohydrate: 36.3g
Fiber: 2.5g
Cholesterol: 58mg
Iron: 1.7mg
Sodium: 620mg
Calcium: 179mg
Article continued on next page