I'd been teaching for six years when Stephen Dunning's Reflections on a Gift of Watermelon Pickle was published in June 1966.

Because the book featured 114 modern poems accompanied by exciting photographs, it soon became a favorite with English teachers who wanted to teach poetry.

Many teachers, however, realized that when the photographs that appeared in Reflections were viewed apart from the poems, they were powerful incentives to writing. Other teachers discovered that the combination of a photograph and a poem triggered students' imaginations and helped to inspire writing.

The Return of Watermelon Pickle…Almost

As far as I know, Reflections on a Gift of Watermelon Pickle is out of print.* But that doesn't mean that combining photos with poems is any less effective today than it was years ago. After all, grandma's famous chicken soup still cures colds, doesn't it?

Even though the photo and poem shown here didn't appear in Reflections, they're a good example of how that combination can help to inspire students to write either prose or poetry.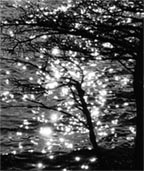 Reflections
Like diamonds on black velvet,
Starlight dances on water.
Alone, I sit and think
Of life, and love,
And lesser things like
Who will win the Super Bowl next year?

In the photograph, the extremes of light and darkness suggest ideas that students can translate into writing. In the poem, the narrator introduces thoughts that many people share at one time or another. Together, the photograph and the poem can introduce ideas that will trigger students' thought processes and help to create many kinds of written compositions. The possibilities are endless.

Who Are These Guys?

And why are they sitting, alone, as if they were waiting for someone—or for something to happen? Why does one of the men appear to be calm and relaxed while the other man is tense and apprehensive? What is the significance of the darkness that surrounds the man on the left?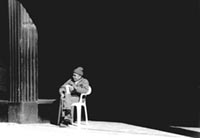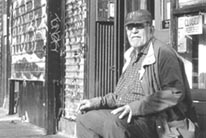 Why is the man on the right as anxious as he appears to be? What are some of the differences between the settings shown in the two photographs?

You could ask students to imagine what either or both of the men's lives are like. Where do they live? What kind of work do they do? What are their families like? Why are they sitting alone on a sidewalk in a city? How would the two men respond if they were to meet each other? What secrets do they harbor?

Alternatively, you could simply let the students discuss what they see and feel when they view the photos before they write short stories, poems, or imaginative biographical entries.

Article continued on next page