Every morning Barb/MI posts an inspiring or thought-provoking quotation selected especially for educators, referred to as an "Apple Seed," on the main chatboard. The "Apple Seeds" she posted during last month are compiled here...
Be sure to use the Printable link following this list to print out an attractive poster worthy of sharing with teachers and school administrators, and to file for use as a reference tool whenever you need a great quotation!
All things come to those who go after them.
~ Rob Estes
The groundhog is like most other prophets; it delivers its prediction and then disappears.
~ Bill Vaughn
If you're strong enough, there are no precedents.
~ F. Scott Fitzgerald
Automobiles are there to get you from point A to point B. They are utilitarian devices, not expressions of social status.
~ Randy Pausch
It's your life, your one and only life – so take excellence very personally.
~ Scott Johnson
Nobody knows what is the best s/he can do.
~ Arturo Toscanini
Oh, the difference between nearly right and exactly right.
~ Horace J. Brown
That's what freedom is all about – a chance to be better.
~ Albert Camus
The greatest thing is, at any moment, to be willing to give who we are in order to become all that we can become.
~ Max De Pree
The saddest words of tongue or pen are these four words – it might have been.
~ Oliver Wendell Holmes
It's easy to look smart when you're parroting smart people.
~ Randy Pausch
Force is all-conquering, but its victories are short-lived.
~ Abraham Lincoln
Live all you can; it's a mistake not to.
~ Henry James
Love doesn't make the world go 'round. Love is what makes the ride worthwhile.
~ Franklin P. Jones
If at first you don't succeed, you're in good company.
~ Elden Peterson
It's not who we are that holds us back. it's who we think we're not.
~ Michael Nolan
Ignore people who say it can't be done.
~ Elaine Rideout
Sometimes, the most impenetrable brick walls are made of flesh.
~ Randy Pausch
What is it going to be – reasons or results?
~ Art Turock
If you're going to worry, don't do it. If you do it, don't worry.
~ David Armistead
My strength lies solely in my tenacity.
~ Louis Pasteur
Labor to keep alive in your breast that little spark of celestial fire called conscience.
~ George Washington
Be fanatics. When it comes to being, doing, and dreaming the best, be maniacs.
~ A. M. Rosenthal
Do your work with your whole heart and you will succeed – there's so little competition.
~ Elbert Hubbard
Brick walls are there for a reason. They give us s chance to show how badly we want something.
~ Randy Pausch
Your life is not something you find – it's something you create.
~ David Phillips
The world stands aside to let anyone pass who knows where s/he is going.
~ David Jordan
There ain't no rules around here. We're trying to accomplish something.
~ Thomas Edison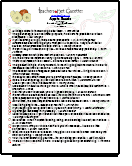 Printable "Apple Seeds" in pdf format


» More Gazette articles...