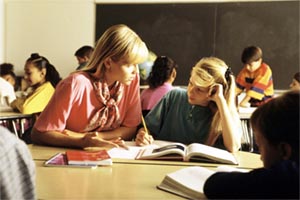 Depending on the nature of classroom tasks, a teacher assumes a range of roles throughout a typical school day. For instance, he or she may choose to assume a leading role to introduce new concepts to the class during whole class sessions. Typically, teachers in this role lead the class toward understanding by asking questions. Whether the questions are close ended (with one right answer) or open ended (with several right answers), they almost always follow the traditional initiation-response-feedback (IRF) pattern. The teacher asks question, a student answers and the teacher feeds back the student on his/her response. This pattern continues with the teacher assuming the role of an expert examiner or the "sage on the stage".

While the teacher's role as an expert is necessary for many functions in the classroom, and it would indeed be naïve to assume that students could do without it, teachers could (and should!) experiment with other roles, as well.

This article discusses a few choices that allow teachers to extend their repertoire from a "sage on the stage" to a "guide on the side". We will take a close look at some of the communicative behaviors that teachers display when they shift from being an expert performer to a facilitator of knowledge. Research shows that the verbal behavior that teachers display in their interaction with students, are eventually internalized by the students who exhibit them in interaction with their peers. If our aim is to provide autonomy to our learners and lessen their dependence on us, it becomes important to model those behaviors that can set them on the path to independent learning.

Teacher as Mediator

Students bring with them incomplete, missing understanding to novel tasks. Look at this as an opportunity to clarify their missing understandings. Walk them back to what they know already. Build on that previous knowledge. Encourage them to look for more than one possibility for reaching out a solution. And most importantly, ask them to trace their steps back and think about how they reached the solution. This last step is particularly important as it makes students think about their thinking (meta cognition) which serves to further clarify their understanding.

An important teaching skill that can be cultivated in this context is the art of asking probing questions. A probing question is what seeks to peek into the learner's mind, as if looking, 'behind the screen' scenes. A teacher may ask a probing question to:
Check understanding

In response to a short answer that needs to be elaborated

Seek clarification for an answer that is ambiguous or confusing
When the teacher wants to build the discussion up, it may take a series of probes and responses to engage students. The most promising function of teachers probing into children's thinking is that children eventually learn to ask their peers such questions when working in groups, and thus, take charge of their own learning. Asking probing questions is an art that that is difficult to achieve at times, but well worth the effort, considering the thinking skills in can hone.
Probing questions can be asked in a formal or informal way. This example taken from Duminy et al. (1992) Teaching Practice may inspire eclectic teachers to come up with their own gambits!
An inspector was baffled during a lesson observation when he heard the teacher say 'strawberry' in response to an answer that a student had given. Later during the lesson, he heard one of the students say 'strawberry' to another student in the course of group talk. The teacher explained later that her class decided that strawberry is a delicious treat to eat, but we don't get it as much as we like (because it is a relatively expensive fruit). So, when somebody gives a correct, but rather short answer, instead of saying lovely, can you say a little bit more about it, the class says strawberry!
Some more conventional probes could be:
Would you like to tell me more about it? (Inviting)

How do you think you'll go about doing that? (Enquiring)

Can you tell me more about what you are intending to do? (Request for elaboration)
You may even want to write up a list of these conversation starters that your class (and you!) can use as reference. Research shows that when children have a list of generic questions to base their talk on, it takes the load off their working memory.
Article continued on next page