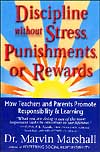 In his book Discipline without Stress, Punishments, or Rewards - How Teachers and Parents Promote Responsibility & Learning, he clearly and concisely demonstrates how the external approaches of relying on rules, imposing consequences, rewarding students for appropriate behavior, and punishing students to make them obey are all counterproductive.
The book can be purchased from the National Association of Elementary School Principals, the National Association of Secondary School Principals, the National School Boards Association, Phi Delta Kappa, at local bookstores, or from his website www.MarvinMarshall.com.
Chapter 1, REDUCING STRESS, shows how to reduce stress and increase effectiveness in influencing others. The chapter concludes with an exercise which teaches that life is more successful and has greater satisfaction when attention is given to the positive, when the option of choice is recognized, and when reflection is practiced.
Chapter 2, MOTIVATING, discusses how people attempt to change others and explains the differences between external and internal motivation. External motivators of telling, rewarding, and punishing (and how the latter two are different sides of the same motivational coin) are explored. The chapter concludes with a discussion of mindsets - those perceptions which drive motivation.
Chapter 3, RAISING RESPONSIBILITY, describes The Raise Responsibility System. The simple-to-implement program raises responsibility and can be used in any pre-kindergarten to 12th grade classroom and is currently used in rural schools in Texas to urban schools in New York City and in small child care centers to large high schools. The strategy also can be used in any home or youth setting. The approach is noncoercive and neither rewards nor punishments are used. The approach employs internal motivation so that young people develop a desire to want to behave responsibly. A skill is taught which improves relationships between any two people - parent and child, teacher and student, employer and employee, husband and wife. If the use of authority becomes necessary, it is used without being punitive. Imposed consequences are not used because they engender avoidance, resistance, victimhood thinking, and alienated feelings - sometimes on the part of both the adult and young person. However, if a consequence is appropriate, it is elicited, thereby ensuring ownership and responsibility by the young person, where it belongs.
Chapter 4, PROMOTING LEARNING, begins with a discussion of learning climate. Suggestions are given for improving relationships between the teacher and the class as a whole, among students themselves, and between a teacher and an individual student. Strategies are shared which promote empathy and respect, quality learning, and reduce the unhealthy striving for perfection. The chapter concludes with specific strategies for anger and impulse management, resolving conflicts, and dealing with difficult students.
Chapter 5, TEACHING, describes left and right brain hemisphericity, multiple intelligences, modalities of learning, emotions, styles, lesson planning, levels of intellect, instructional questions, group questioning strategy, choosing key words to frame questions, imaging, stories, mindsets, metacognition, the senses, suggestions for aiding recall and memory, laser learning, and three seminal shifts. A separate section is devoted to classroom management and another to homework.
Visit Marvin Marshall's Homepage to read more.
To read about the failings of punishments and rewards, go to www.AboutDiscipline.com