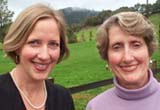 Instant Ideas for Busy Teachers...
by Barbara Gruber, M.A. & Sue Gruber, M.A.
Barbara Gruber Online Courses for K-6 Teachers www.bgrubercourses.com
---
March ~ The Perfect Time for a Fresh Start!
---
As each month of the school year ticks by, teachers get busier and busier. Teachers are never "done," but there are some things we can do to get control over the time we have. March is a marvelous month to make smart moves that will make the rest of the year go well.
Reorganize "Command Central"---that's your desk!
You started the school year with a tidy desk---now it looks like a paper drive! Having to search for things is so frustrating and time-consuming! Take time now to reorganize your desk so you can work smarter, not harder. Do you need some stacking paper trays and desk organizers to help control clutter? Look at the many storage and organizational products available at discount stores, office supply stores or your favorite dollar stores. There are all kinds of crates, boxes and trays in bright, happy colors that can help you get organized and stay that way!
Teachers have so many papers to handle! Our all-time favorite paper management tool is "The Organizer." You can make it in minutes and use it till you retire. Then, you can sell it to another teacher! Just kidding about that! Read about it in our April Gazette 2002 article---it's idea #3. Click on the link to the April 2002 Gazette at the bottom of this article.
Get some help!
At-home helpers can accomplish an amazing amount of work for you. If you are doing this for the first time, March is a perfect time of year to give it a try. If you find you don't like this idea, you have an ending point coming up in a few months. If you love the idea, as we think you will, you can round up at-home helpers at the beginning of next school year. Think of a routine task a volunteer can do at home, such as making work folders or marking weekly timed math tests. Call a parent, explain the job and ask if he or she will volunteer to do the job at home for the remainder of the school year. Once you get this organized, it can run like clockwork. Whenever you need a batch of folders, send home a sample and the materials and have your helper do the job. Before school is out, have the volunteer make folders for back-to-school. There are thirty-six weeks in the school year! If a helper saves you an hour each week, that adds up to thirty-six hours by the end of the year. That's thirty-six hours of work you did not do! And, thirty-six hours more for your life beyond teaching!