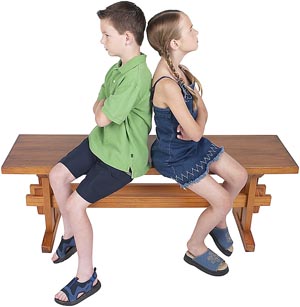 In steps the school to take control. "Some schools are adopting rules that force children to play with everyone, even kids they don't get along with," says the article. "Known as 'You Can't say You can't Play" policies, they essentially forbid a child to say "no" if a kid asks to go out and play. The idea is to prevent feelings of rejection...The object of all these policies is to dismantle the Darwinian order of the classroom, creating a schoolyard utopia where no shy child sits alone at the lunch table and no kid with glasses ever gets called "four eyes."

Should we be sending kids to this school of No Knocks? Does it make kids expect that the playing field will always be leveled for them? Does it prepare them for the mean people who will not alter their behavior to spare their feelings. Does it give kids coping skills, or false expectations?

Rather than play without competition, a new kind of competition set in: My kid will never feel the stress and hurt that I did on the playground. In other words, little Timmy's childhood is being placed in competition with his Dad's. Nor is it good to have the inverse: "When I was your age, we had fights behind the gym every day. Toughen up. Be more like your old man." Dad –2.0.

The point is that many parents throw their adult egos and professional skills into the playground. Many a school administrator can attest to mediating between grown ups battling within their parent cohort over that "garden-variety nastiness" little Timmy experienced at morning recess.

I feel their pain. My wife and I have also experienced seventh grade from the perspective of a daughter—twice. It ain't pretty. When my kid is the lonely one in the lunchroom, my heart breaks. But when that same daughter, now a happy high school senior, came home the other night and vented about a friendship dilemma, I felt glad that I had shown restraint during her seventh grade turmoil. Even though I was ready with problem-solving ideas, she cut me off.

"Dad! I just want you to listen," she said. "I'm not looking for a solution."

So how do we resolve the tension between our desire to make childhood nicer, and the desire to allow our kids some negative experiences to promote the long term, positive outcome of self-efficacy? My daughter knew: Protecting children from childhood is not the same as supporting them as they navigate its rigors.

Todd R. Nelson is principal of the Adams School in Castine, Maine. He worked in independent schools for 22 years.