Red Basket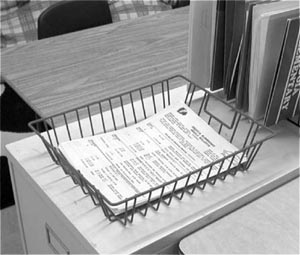 There's something to be said for the notion of "A Place For Everything and For Everything A Place." Aside from the fact that strict adherence to this principle could conceivably become some kind of obsessive/compulsive straight jacket, knowing where something can be found helps to reduce stress and conserve energy. And this simple little tool will do both.

It's nothing more than a red wire basket† that sits on a filing cabinet right next to my desk. The sole purpose for its existence is to hold non-academic papers and things that need my attention.

A short list of items suitable for the Red Basket might include:
… a copy of that week's school bulletin
… administrative circulars from the principal needing my attention
… notes from parents to be filed or addressed in some way
… useless bits of information being routed to the teachers
… my Today Folder (a distinctive folder that holds that day's new business items)
… classroom stuff such as field trip permission slips I'm trying to collect
By having a special place for these materials—and, again, I'm not talking about anything academic; I'm talking about the day-to-day school business stuff that is sent my way—they become easier to manage.
That wasn't always the case during my early BRB days. (Before Red Basket.) Back when I was relatively new to the profession, a part of my normal pre-morning-bell routine would consist of completing the following steps:
Check my mailbox in the office for new stuff.
Pull out the new stuff and head to my room.
Sit at my desk and make little piles of stuff I had to do.
Overlook most of it until someone was screaming for something.
Sad but true; true but sad.
It's better now because I have a dedicated place to keep all of the stuff I need to take care of. And although it took a few weeks to develop the habit of keeping the business items in the Red Basket, it eventually became automatic. And since these business items are now all in one place, I can work on something for a bit and then just toss it back into the basket knowing it will be there the next time I've got a spare moment.
Another advantage to the Red Basket is the fact that it is accessible to my students. They all know that the Red Basket is a place where they can place something they might have otherwise felt compelled to deliver to me personally. The result of this simple understanding is that no one ever interrupts my guided reading group in order to hand me some random note from Mommy. It just doesn't happen. Instead, the student deposits the note directly into the basket secure in the knowledge that Mr. Morris will find it waiting patiently for him when he returns to his desk.
Challenge: Force yourself to have an empty basket by the end of the week. According to the latest corporate management gurus, one of the secrets of successfully dealing with paperwork is to handle a paper just one time.
It's in your hand.
Do what needs to be done now.
If left neglected, the Red Basket of Things to Do will become the Red Basket of Things That Should Have Been Done a Month Ago.
† The photo is purposely black-and-white because: 1) they don't make red wire baskets anymore; and 2) I didn't want anyone thinking the basket had to be red in order to work properly. It just so happened that red wire baskets were available at the time I bought mine. Honestly, the color doesn't really matter all that much. Feel free to get any color you wish. Just make sure that whatever you choose as a home for your business stuff is somewhat unique and stands out from all of the normal school-issue items that already populate your classroom. In other words, a wire basket is better than, say, the lid to a case of Xerox paper because the basket is bit more distinctive. A small point, I know, but one I wanted to make.
PS
If you do happen to find red wire baskets somewhere, send me an email and let me know. A school district I work with is asking for 50 of them.
Continued on next page »