Every morning Barb/MI posts an inspiring or thought-provoking quotation selected especially for educators, referred to as an "Apple Seed," on the main chatboard. The "Apple Seeds" she posted during last month are compiled here...
Be sure to use the Printable link following this list to print out an attractive poster worthy of sharing with teachers and school administrators, and to file for use as a reference tool whenever you need a great quotation!

Do good for others, and people may accuse you of selfish motives. Do good anyway.
~Mother Teresa
Those who need your love the most are often those who appear to deserve it less.
~Bob Moawad
Education best serves students by helping them be more self-reflective.
~Randy Pausch
Encourage one another. Many times a word of praise or cheer has kept a person on her/his feet.
~Charles Swindoll
Giving never moves in a straight line – it always moves in circles.
~Dr. Robert Schuller
The eyes of the world are upon you. The hopes and prayers of liberty loving people everywhere march with you.
~Dwight D. Eisenhower
One of the most difficult things to give away is kindness – it is usually returned.
~Cort Flint
You cannot do a kindness too soon, because you never know how soon it will be too late.
~Ralph Waldo Emerson
Have you had a kindness shown? Pass it on.
~Henry Burton
One key factor in the downward spiral in our educational system is that there is too much stroking and too little real feedback.
~Randy Pausch
We had only one simple rule in our home: Live harmlessly.
~Sally Browne
We are all here on earth to help others.
~W. H. Auden
Love people. Use things. Not vice-versa.
~Kelly Ann Rothaus
It is the flag just as much of the person who was naturalized yesterday as of those whose people have been here many generations.
~Henry Cabot Lodge
Let no one ever come to you without leaving better.
~Mother Teresa
Give what you have. To someone, it may be better than you dare think.
~Henry Wadsworth Longfellow
It's a thrill to fulfill your own childhood dreams, but as you get older, you may find that enabling the dreams of others is even more fun.
~Randy Pausch
Love lights more fires than hate extinguishes.
~Ella Wheeler Wilcox
It is when we forget ourselves that we do things that are most likely to be remembered.
~Parker Sweetwater
We must not only give what we have; we must also give what we are.
~Cardinal Mercier
My father didn't tell me how to live; he lived and let me watch him do it.
~Clarence B. Kelland
What do we live for, if not to make life less difficult for others?
~George Eliot
We must be the change we wish to see in the world.
~Mohandas Gandhi
The only was any of can improve is if we develop a real ability to assess ourselves.
~Randy Pausch
It matters not how long we live, but how.
~Phillip James Bailey
Real generosity is doing something nice for someone who will never find out.
~Frank A. Clark
You have to reach out your hand – that's what it's there for.
~Mackinlee Barton
The effect of one good-hearted person is incalculable.
~Oscar Arias
You can really change the world if you care enough.
~M. W. Edelman
The companions of our childhood always possess a certain power over our minds that hardly any later friend can obtain.
~Mary Shelley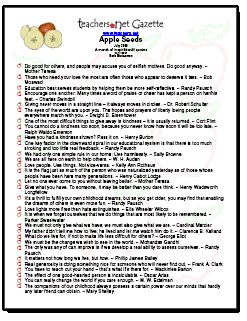 Printable "Apple Seeds" in pdf format


» More Gazette articles...