In the teaching profession, the only thing harder than being in the classroom everyday is not being in the classroom for even a single day.  There is no just calling in and letting the in-box anticipate your return.  Being gone, even for a single day, requires a level of planning and organization that rivals stealth military operations.  When those times do arise that require a teacher to be out, our most beneficial ally appears - The Substitute Teacher.

I have experienced substitute planning from both the side of the sub attempting to decipher teacher's plans as well as the preparing teacher.  During my year as a substitute and subsequent years in my own classroom, I have discovered several clever and uncomplicated ideas to make being absent less of a burden on all parties.  These are by no means a cure all - everyone has his or her own methods. However, the one thing I have seen time and time again in this profession is that sharing advice is the most valuable tool we have.  And so I present my breadcrumbs of wisdom I've picked up along the way...

The "Always Haves":

Not everyone has that magical folder of emergency sub plans, but EVERYONE should always have the following items:
A current class list & school map
Schedules for students that may see other teachers throughout the day
Names of students that have medication with the nurse (In case of an emergency)
The phone numbers to the office and a couple of "tag team" teachers that can help out in a pinch
Special instructions for arrival/dismissal
Procedures/map for emergency drills
This information can be made easily accessible when stored in a brightly colored folder either on your desk or with your plans.
Advertisement


Instead of a separate schedule, which is more than likely posted in your room, I prefer to incorporate the schedule into my plans (kill two birds, etc.)  This enables you to save sub plans as a template on your computer, and easily update plans the next time you are out.  I have found, both as a substitute and as a teacher leaving plans, that this is an exceedingly organized way to present information and a much less time-consuming way to prepare.

The Blueprints

I head lesson plans with a greeting, thank the sub for coming, and let them know of anything special going on (assembly, speaker, drill) if needed.

Give the names of a few of your most responsible students so the sub has a few "helpers" to rely on throughout the day.  Make sure to leave instructions for taking attendance as well.  If there are any handouts or worksheets included in my plans, I highlight the titles of those sheets to eliminate confusion.  I leave copies clipped together under the plans.  If Teacher's Editions of the books are being used, I open them to the pages needed and mark those pages with a post it note for reference.  In order to keep things simple, I stack the TE's and worksheets in the order they will be used throughout the day.

Good Morning, thanks for coming!

If you need any help in the room today, Jack*, Sarah*, and Kimberly* are very helpful. The bright blue attendance sheet (under these plans) needs to be turned in when the attendance bell rings at 10:00. Students are considered tardy if they arrive after 8:00.

Please note that anything highlighted in the plans denotes a worksheet, and those are clipped underneath these plans.
7:45-8:00
Arrival. Students should place last night's homework in the bin and get started on their morning warm ups that are already on their desks.
8:00-8:45
Reading Groups. Students already know their assignment by their group's placement on the blue bulletin board. They should have the needed materials, but if some do not, extras are in the folder marked "Reading Groups." Every student needs to complete a

Reader's Response sheet

today, please pass those out about 8:30. Our inclusion teacher, Mrs. West* will be in the room during this time, please feel free to ask her any questions you may have.
Be sure to include times, locations and procedures for recess, lunch, and special area/planning time.
12:06-12:36
Lunch – our class sits at the table to the far right of the cafeteria, please stay with the class until all the students have made it through the lunch line.
1:30-2:15
Special Areas – We go to Art with Ms. Kirk* today, her room is all the way at the end of our hall
Once you have typed in your schedule blocks and saved them as a template, new plans can be inserted when needed.  Certain blocks, like recess and lunch will remain the same every time.
As a thank you, I always tape some change to lesson plans next to planning time with instructions for my sub to have a soda or a snack on me, and include directions to the nearest vending machine.  If any work needs to be graded during the planning period, be sure to leave those instructions in the plans and include a key.
The last page of your plans can be left blank for the sub to let you know how the students fared in your absence, or you may prefer to head that page "Notes," or  "How Did It Go?"
A last page template may look something like this: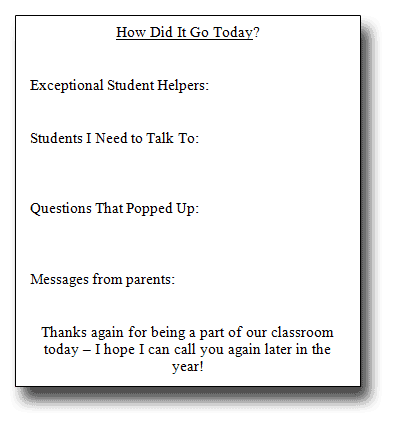 Our profession is one of the few where it's almost more work to be absent than present.  Any and all tools used to lessen the load, especially when planning for your absence, should be utilized, manipulated, embellished, created, adapted, borrowed, and above all else, shared with other teachers!   It is my hope that the ideas I find useful will help fellow teachers likewise, I anticipate that with each new school year, I will be filling my bag with a whole new set of tried and true tricks shared with me by fellow teachers.