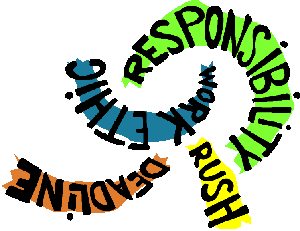 The character trait for December is
RESPONSIBILITY.
Accountability
Responsibility
December 1:
In 1990, the two ends of a tunnel connecting Great Britain and France were connected. The diggers had started at each end and met in the middle, 132 feet below the bottom of the English Channel. It took a lot of careful planning to meet like that. Have you ever done something that needed a lot of planning? What did you plan? How well did your plans work out?
Woody Allen was born in 1935. He once said, "If you want to make God laugh, tell Him your future plans." What do you think he meant by this?
Today is the annual Festival of Freedom and Democracy in Turkmenistan. If you were in charge of planning a ceremony for your school celebrating freedom and democracy, what are 5 things you would need to think about?
December 2:
In 1784, George Washington nicknamed New York the Empire State. What would be a good new nickname for your state, province, or district? Defend your suggestion.
Def Leppard's Rick Savage was born in 1960. Def Leppard's name is very unusual and spelled in an unusual way, to arouse curiosity and interest among listeners. Suppose you wanted to start a music group. What name would you choose to attract people to listen to your music? Think of several, and try them out on your classmates.
December 3:
Sir Rowland Hill was born in 1795. As Postmaster of England, he created the idea of the postage stamp, which allowed the sender to pay for the cost of a letter. Before that, the receivers could look at the mail, select what they wanted to pay for, and pay for only as much mail as they wanted, or could afford. This meant that poor people were seldom able to get mail and the post office was going broke with undelivered mail. But Sir Rowland's system meant that receivers would get junk mail, even if they did not want it, something he never anticipated. Make a column list of the advantages of each system, then write a paragraph saying which one you think is best, and why.
Oberlin College opened in 1833 as the first coeducational college in the United States. Before Oberlin, there were colleges for men or women, but not for both at the same time. Would you prefer to go to a school with only one sex, or do you prefer coeducational schools? Give 4 reasons for your choice.
December 4:
Thomas Carlyle, Scottish historian and essayist, was born in 1795. He once wrote, "Not what I have, but what I do is my kingdom." What do you think he meant by this?
In 1872, a British ship spotted and took in tow the Marie Celeste, an American vessel with no one on it. It was seaworthy, well-supplied, and intact, with everything in perfect order. No reason for abandoning the ship was mentioned in the log. No one ever came forward to say why the crew had abandoned it, or where they had gone. The Marie Celeste is now considered one of the great mysteries of the sea from that time. What do you think happened to the crew and passengers on the Marie Celeste? Tell why you think so.
December 5:
Jose Carreras, Spanish opera tenor, was born in 1946. He, Placido Domingo, and Luciano Pavarotti presented many programs as the "Three Tenors," introducing many people to opera and classical singing. In their programs, they often sang traditional Christmas songs from many countries. Make a list of 5 of your favorite Christmas songs. Why do you like each of those songs?
In 1945, 5 navy planes disappeared in the region called the Bermuda Triangle. It consists of the ocean between Bermuda, Key West in Florida, and Cape Hatteras in North Carolina. Some people believe that strange and unknown things happen in the Triangle. Others say the strange things are caused by natural forces, like storms. How would you investigate the Bermuda Triangle? Name three things you would try to find out. (Teachers: the remains of the planes have been found. It appears that their instruments were out of order and gave them false information, so they flew the wrong way and ran out of fuel.)
Poet Christina Rossetti was born in 1830. Here is a poem she wrote:
A Birthday

My heart is like a singing bird
Whose nest is in a water'd shoot;
My heart is like an apple-tree
Whose boughs are bent with thick-set fruit;
My heart is like a rainbow shell
That paddles in a halcyon sea;
My heart is gladder than all these,
Because my love is come to me.

Raise me a daïs of silk and down;
Hang it with vair and purple dyes;
Carve it in doves and pomegranates,
And peacocks with a hundred eyes;
Work it in gold and silver grapes,
In leaves and silver fleurs-de-lys;
Because the birthday of my life
Is come, my love is come to me.

She uses many unusual words and images to describe her feelings. Can you figure out the meaning of her words from their use in the poem? Make a list of 5 words or images in the poem and express their meaning in your own words.

Article continued on next page