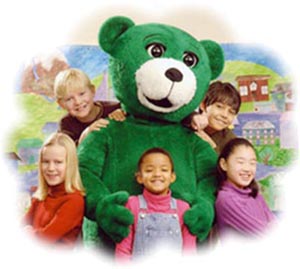 Teachers.Net Recommends
The Kelly Bear C.A.R.E.S. Program
Developed by Leah Davies
The Kelly Bear C.A.R.E.S. Program (Character And Resiliency Education Skills) is a cost effective, multimedia curriculum that is developmentally appropriate for large or small groups of children ages 5-9. Kelly Bear is a friendly, life-size-bear who interacts with real children and serves as both teacher and hero while the children master new skills and understand new concepts. Children readily identify with the green bear who makes mistakes but keeps trying to do his best. Interactive songs highlight the program. It has been field-tested and proven effective.
The overall goal of the program is to prevent problem behaviors by promoting the following 12 key skills:
Self-awareness and self-respect
Emotional understanding of self and others
Social competence and constructive peer relationships
Self-control
Empathy and kindness towards others
Problem solving and anger management skills
Respect for individual differences
Healthy living choices
Perseverance and resiliency
Refusal skills
Personal safety
Character traits such as honesty and responsibility
The twelve areas of growth are measured by evaluation forms completed by adult observers (often teachers) and by the children themselves. Parent evaluation forms are included and are completed during the Parent Program held the last session of the C.A.R.E.S. Program.
Instructional Guide with 16 easy-to-use, detailed lesson plans with 4 evaluation forms, plus masters for reprinting name tags, intro parent letter, invitation to a Parent Program, child's Certificate of Completion, and parenting handouts
Six books (one each of) FEELINGS, BEHAVIOR, HEALTH, ACTIVITIES, DRUG AWARENESS, AND EARTH (new)
ALL 10 Kelly Bear DVDs with Leader Guides
1 hour-long CD of 29 character building songs from the 10 DVD's
Four 11" x 17" Posters
"Help Kelly Bear" Board Game
Plus FREE Kelly Bear hand puppet - while supplies last!
Leah Davies, a regular contributor to the Teachers.Net Gazette, received her Master's Degree from the Department of Counseling and Counseling Psychology, Auburn University. She has been dedicated to the well-being of children for 44 years as a certified teacher, counselor, prevention specialist, parent, and grandparent. Her professional experience includes teaching, counseling, consulting, instructing at Auburn University, and directing educational and prevention services at a mental health agency.
Besides the Kelly Bear materials, Leah has written articles that have appeared in The American School Counseling Association Counselor, The School Counselor, Elementary School Guidance and Counseling Journal, Early Childhood News, and National Head Start Association Journal. She has presented workshops at the following national professional meetings: American School Counselor Association; Association for Childhood Education International; National Association for the Education of Young Children; National Child Care Association; National Head Start Association; National School-Age Child Care Alliance Conference.
Visit http://www.kellybear.com for full details and ordering information.
NOTE:
Current and all past articles by Leah Davies are listed and linked below.


» More Gazette articles...