Send your questions to kioni@trutransformationcoaching. com and check back next month to see if I answer it here or on our video blog at www. myclassroomrules. com.
As a graduate of the Life Potentials Training from iPEC (The Institute for Professional Empowerment Coaching), I can tell you that one of the most powerful concepts I've learned is the Who, What, How formula. As educators, we spend a lot of time familiarizing our students with the 5 W's and the H when it comes to current events and getting down to the main idea of a story. So, what about the current events and the main idea of our lives? The Who, What, How formula helps us to understand ourselves and our students on a deeper level and delivers an insightful passageway into how we really operate in the world.
Here is a sketch of how the Who, What, How formula works: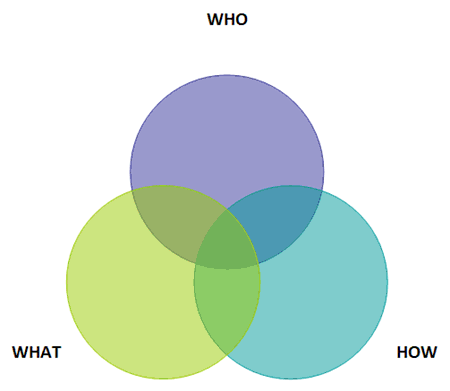 The Venn diagram above basically shows us that there are three major components to our experiences in the world. Our experiences are dictated by all of our previously learned beliefs, assumptions, and interpretations of life. This is WHO we are… or at least what we think we are, and WHO we think we are directly determines WHAT we do in life, and HOW we do it.
Why is this important for our work as educators? Well, simply this. This model allows us to check our children when we observe how they learn, how they behave, and how they interact with others in the classroom. This gives us a starting point from which to respond to them, especially when what we observe is considered "negative." This model also allows us to check ourselves and pay attention to how we are interpreting the actions of our students in the moment. It asks us to question what is really going on as we observe our environment. Is it the child? Or, is it me?
So, what's the answer?
Believe me, it's both. That puts a monkey-wrench in the strong inclination to blame the student for their short comings, or even to beat ourselves up for not being able to "reach" a child. All of our experiences that include others are a combination of everyone's WHO and everyone's WHAT and HOW. Being aware of this notion really gets us thinking before we respond in any situation.
Think about this. In a power struggle with a usually disruptive student who clearly exhibits resistance with a lesson you're teaching, how do you handle the situation? What do you do to remedy the situation?
Now consider this. In that same instance, what is your first interpretation or assumption of what is going on with the student? Where did that interpretation come from? What beliefs do you have that support that interpretation? WHO (what part of you) is talking at that time?
And this. Give the student the benefit of the doubt. Based on WHAT the student has been doing, and HOW they are doing it, WHO could that child believes he is? How does that WHO effect his decision to behave HOW does?
All of these questions are many to consider at once, but what might change about your interaction with this child later when you really take the time to assess these questions?
Do Now
Think of a student you work with regularly that stands out to you as a "problem" child. Write down the child's name at the top of a piece of paper (Please use a pseudonym for the child's privacy), and their age. Next, write a snapshot of the child's personal or academic behavior in a specific situation including your general way of dealing with it, and your honest thoughts and feelings about what you are observing from the child.
Now, answer the following questions about the situation as honestly as you can:
How did you choose to interpret the child's behavior?

What beliefs do you have that support those interpretations?

WHO (what part of you) is talking in this situation? How is this insight helpful for you?

How would WHO this child believes he is, effect his decisions in HOW he behaves?

WHAT will you do differently the next time this child's behavior is in question?
See an example of this assignment in the 2 W's and an H? forum and post your Do Now there as well to share with your fellow educators!