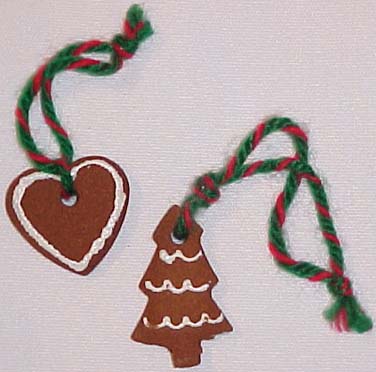 Cinnamon Applesauce Dough Ornaments
Ingredients:
1 1/2 cups ground cinnamon
1 cup applesauce (store bought works best)
1/3 cup white school glue (Elmer's or other brand)
Mix the ingredients together until a dough forms.
Knead for a few minutes.
Roll out to 1/8 or 1/4 inch thick. (If sticky, dust your hands and rolling pin with cinnamon, work on waxed paper.)
Use cookie cutters or other implements to cut out the shapes you desire.
Cut out a hole at the top of each with a drinking straw so you'll be able to thread a ribbon or string (for hanging) when dry.
It takes 4 or 5 days for the ornaments to air dry. You should turn them over frequently so they will dry evenly and won't curl.
You can outline each shape with puffy paint to make them more special.
from Kathleen Carpenter
Cinnamon Applesauce Dough recipe #2
Ingredients:
1 cup store-bought applesauce
1 cup ground cinnamon
Mix ingredients, knead, roll out and cut out shapes with cookie cutters.
Use a drinking straw to form a hole at top before drying.
After dry (in about two days depending upon temperature and humidity in the room), you can craft paint details and thread a ribbon or other tie through the hole for hanging.
Note: While drying, flip over occasionally so the ornaments will not curl up.
from Kathleen Carpenter
---
Gingerbread Playdough
Ingredients:
1 cup flour
1/2 cup salt
2 teaspoons cream of tartar
1 cup water
1 teaspoon vegetable oil
Lots of cinnamon, allspice, ginger, nutmeg (The spices should turn the mixture brown like gingerbread, but you can also add red and green food coloring to develop a brown color.)
Mix the dry ingredients. Play with the spices until you get the scent and color you want. Mix the water and oil together first THEN add to the dry ingredients and stir.
Cook the mixture over medium heat for two or three minutes, stirring constantly until the dough starts to pull away from the sides of the pan and clump together.
Take the dough out of the pan and knead it until smooth.
Store in closed container.
from Kathleen Carpenter
---
Gingerbread
This is the real thing. Serve warm with whipped cream for a special holiday treat. Happy holidays!
To make one loaf:
Ingredients:
2 cups sifted flour
1/3 cup granulated sugar
1 teaspoon salt
1 teaspoon baking soda
1 teaspoon cinnamon
1 1/2 teaspoon ginger
1/2 teaspoon ground cloves
1/2 cup melted butter
1 cup molasses (unsulfured, NOT blackstrap)
1 egg
1/2 cup buttermilk
1/4 cup hot water
Mix all wet ingredients.
Sift together all dry ingredients and add to the wet ingredients. Wisk the mixture to mix until there are no lumps.
Bake in a greased and floured loaf pan at 350 degrees for about 45 minutes.
from Kathleen Carpenter
---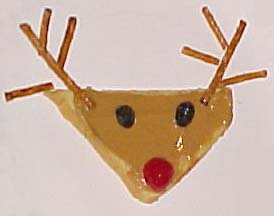 Rudolph Sandwiches
Cut a piece of bread in half crosswise to form 2 triangles.
(I give the children plastic knives to do their own work.)
Spread each half with peanut butter.
Use pretzels for the antlers.
Place a maraschino cherry for nose (on the pointed, crust angle)
Use raisins for the eyes.
Enjoy!
from the Second Grade Mailring