Every day for years, Ron Victoria (AKA Ron/NJ) reported on the commemorations of the day on the Teachers.Net Golden Apples Chatboard. Now his many fans will find his Today is... for each month right here in the Teachers.Net Gazette!

August is...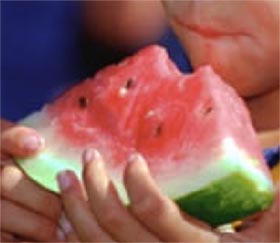 National Catfish Month,
National Golf Month,
National Eye Exam Month,
National Water Quality Month,
Romance Awareness Month,
Peach Month, and
Foot Health Month.
| | | |
| --- | --- | --- |
| August 1 is | ... | Friendship Day and National Raspberry Cream Pie Day |
| August 2 is | ... | National Ice Cream Sandwich Day |
| August 3 is | ... | National Watermelon Day |
| August 4 is | ... | Twins Day Festival |
| August 5 is | ... | National Mustard Day |
| August 6 is | ... | Wiggle Your Toes Day |
| August 7 is | ... | Sea Serpent Day |
| August 8 is | ... | Sneak Some Zucchini Onto Your Neighbor's Porch Night |
| August 9 is | ... | National Polka Festival |
| August 10 is | ... | Lazy Day |
| August 11 is | ... | Presidential Joke Day |
| August 12 is | ... | Middle Child's Day |
| August 13 is | ... | International Left-Hander's Day |
| August 14 is | ... | National Creamsicle Day |
| August 15 is | ... | National Relaxation Day and National Failures Day |
| August 16 is | ... | Bratwurst Festival |
| August 17 is | ... | National Thrift Shop Day |
| August 18 is | ... | Bad Poetry Day |
| August 19 is | ... | Potato Day |
| August 20 is | ... | National Radio Day |
| August 21 is | ... | National Spumoni Day |
| August 22 is | ... | Be An Angel Day |
| August 23 is | ... | National Spongecake Day |
| August 24 is | ... | Knife Day |
| August 25 is | ... | Kiss-And-Make-Up Day |
| August 26 is | ... | National Cherry Popsicle Day |
| August 27 is | ... | Petroleum Day |
| August 28 is | ... | World Sauntering Day |
| August 29 is | ... | More Herbs, Less Salt Day |
| August 30 is | ... | National Toasted Marshmallow Day |
| August 31 is | ... | National Trail Mix Day |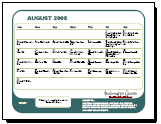 Printable "Today Is" Calendar in pdf format