If I could encourage you to add one new item to your new school year that could make a tremendous difference, it would be the addition of Tool Kits for each of your students. With summer coming to a close all too soon, there's no time like the present to gather the materials for your tool kits! If you're a teacher, you'll want them for each of your students. If you're a parent or a tutor, you'll want to construct them for your child or small group.
These easy to make, very inexpensive kits are really high impact. They're good for all students but will make a great impression on students who are more difficult to focus and who learn through movement—those who tap their pencils or swing their legs during instruction. (They're the ones you occasionally want to hold still for a few minutes while you regain your sanity! However, if you really held them still, they truly wouldn't learn at their maximum potential.) You'll love how engaged students become as they put the kits to use and how the kits can become part of your classroom management as well.
The kits will contain a number of items that can be used during any subject you're teaching, and I truly mean any subject—reading, math, science, social studies, music, foreign language, etc. The tools will be simple items that students will use to identify, underline, highlight, predict, and denote certain words, phrases, items, and clues that they discover in text. Sometimes you'll lead them with the tools, and at other times, they'll use the tools to navigate their own way through a lesson, making discoveries independently.
To construct the kits, you'll first need a sealable sandwich bag for each student in the classroom. You can easily personalize these bags by printing your students' names on self-adhesive mailing labels and sticking them to the bags. The tools should be introduced gradually so that students are taught the appropriate use of each and so that the tools won't be overwhelming to them in the beginning. Be clear to students that they are not to misuse the tools or use them at inappropriate times. The penalty might be that they'll lose their kits for a few days. They won't like that as they generally look forward to using these manipulatives. Along the lines of behavior, too, you'll see how easy it is with just a glance around the classroom to gauge which students are focused and which need a little more encouragement—often tended to just by moving closer in proximity to the student.
The list of tools you can add to your kits is inexhaustible and you'll surely think of other items to include as the year progresses. However, here are a few tools that you might choose for your students' kits: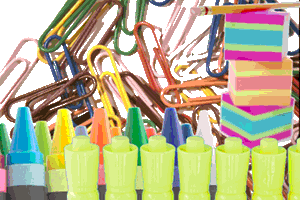 Sticky Notes—About 12 on a pad will be sufficient for a few lessons.

VIP Strips—These are sticky notes that you pre-cut, snipping several times toward the sticky end to form "fingers" that students can tear off as needed to mark text.VIP Strips were an invention of Linda Hoyt to call attention to Very Important Points in text.

Sticky Sticks—These come in packs and look similar to pipe cleaners but have a waxy coating that adheres to book pages. They can cling to a book page and then be stripped away without leaving a residue. They are malleable and also can be cut into smaller strips. They are used to highlight words, phrases, and clues. (I like the Wikki Stix brand that won't pull apart.)

Pocket Chart Highlighters—These are brightly colored, transparent, flexible plastic strips, approximately 2 inches by 4 inches. They come in packs of 24.

Highlighter Pens—These come in a variety of colors and are used to highlight text.

Paper Clips — These can be used to flag a page and the location on that page of a word or clue that needs to be recalled by the reader.

Bookmarks—These can be handy as place holders and can serve double duty to track print or highlight sentences that are discussed. You might even want to construct some that are disposable with questions that keep them focused on that day's text or that give space for quick responses during reading.

Response Cards—These are useful in eliciting responses from all students, thereby helping circumvent the frequent classroom phenomenon in which a few students always respond while others remain passive. These could simply be the words "yes" and "no" printed on cardstock and cut into index size cards.

Crayons—A crayon or two can be included for use as highlighters to mark consumable text and for occasional additional uses.

Highlighter Tape —This is a brightly colored roll of tape that comes on a dispenser. It's stickiness is similar to a Post-It note. You might tear off several pieces and affix to a strip of laminate so that students can remove and replace it a number of times.

Word Frame—For this, you'll use a die-cut template to cut an appealing shape from construction paper. After the figure is cut, snip a small window in the figure. Then, run the figure through your laminator and trim the edges. The result is a fun figure with a window for students to frame words and phrases.

Glitter Stix —These are simply craft sticks with tips dipped in glue and then in colorful glitter. They are used by students to mark clues, vocabulary, etc.

Here are a few examples of how the tools might be used:
Having students search for a vocabulary word prior to the lesson: "Skim page 80 and place a VIP strip alongside the word." Once the word has been discussed, students can write a definition on the VIP strip. After discussing several words, they'll have created their own glossary for reading the text.

Having students create images during reading: "Read until you come to something that creates a strong picture in your mind. Stop there and hold your place with your glitter stick. Share your image with your reading partner."

Marking clues during reading: "Today as you read, place a VIP strip each time you find a clue that lets you know something about the traits our main character possesses."

Looking at internal structure of narrative text: "Place a paper clip along the edge of the page each time the setting changes."

Looking at internal structure of informational text: "Draw a circle around each illustration in this lesson and a line to connect it to the specific text it's most directly connected to."

Having students identify story elements: "Use your PC Highlighters to highlight where in the text you first discover the problem in this narrative. Stop at that point and let's share what you've found."
Before school begins, all you'll need to gather will be the seal-top baggies and 1-2 tools to give to your students as school starts. You'll see a big pay-off for a very small investment of time and money! Have fun creating these kits and guiding your students to use them to get them more hands-on involved in reading!