Thanks to the creativity and generosity of the Teachers.Net community, we offer the following printables for educators to use with their students. Just click and print!

You will need Adobe Acrobat Reader in order to open and print these files. You can download it FREE
at Adobe Acrobat Reader - Download

Latest contributions to Teachers.Net Printables

Be sure to bookmark this page and check back often to see what's new in Printables!
Interview Questions for Grandparents Day created by Beth Newingham
Grandparents Day is the first Sunday following Labor Day.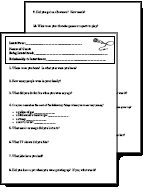 "Hello Friends" Song Book created by LeePark
"I made a book for the Hello song by Dr. Holly that someone shared on this board (teachers.net/mentors/kindergarten) recently and I would like to share it with you."
Hello Friends By Dr. Holly
"Hello, jell-o! Hi there, grizzly bear! How are you, caribou? I'm fine, porcupine! What's up, buttercup? Not much, coconut! Nice to see ya, tortilla! Hi, hi, pumpkin pie! How've you been, dolphin? Feeling great, rattle snake. What's shakin', little bacon? Not a lot, tater tot! Bonjour, dinosaur! Good day, blue jay! Howdy, brownie! Hola, cola! Welcome, bubble gum! Come on in, my friend. This is how the day begins!"
hello_book.pdf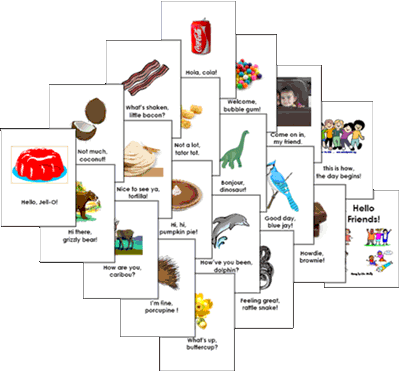 Attendance and Lunch Count System
Mount the printed sheets to a surface to which magnets are attracted. Print each student's name on a note card that has a piece of plastic magnetic tape on the back. When each student enters the room he places his name card under the picture that indicates the type of lunch he will be eating. The attendance and lunch count is very easy and quick to accomplish with this system.
attend_lunch.pdf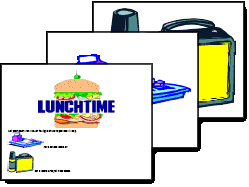 Dolch Word Story
This story contains the 220 Dolch Basic Sight Words.


Click here for All Teachers.Net Printables

TERMS OF USE: Printables offered here are for use by individual teachers. They may be shared with colleagues provided all identifying information as it appears on the original printout remains on all copies. Teachers.Net printables may not be copied or published online or in print publications, except by the original contributor of the material, or with permission by the author or Teachers.Net. We welcome links back to individual printables or to this page. Links titles should include "Teachers.Net."