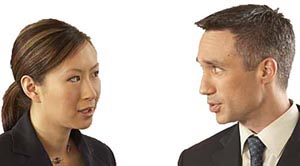 "What you may not understand is that for everything you have accomplished so far, there is way more out there that you haven't even seen yet. And it's not just going to come to you. You have to go get it yourselves."
…Andrew Asensio, Salutatory Address, Newington (Connecticut) High School Graduation, June 2001.
In the context of the mentoring process, your primary responsibility as a new teacher is to learn to teach better. Put another way, as a new teacher, your job is to develop the capacity and confidence to make your own informed decisions, enrich your own knowledge, and sharpen your own abilities regarding teaching and learning. The role of your mentor is to bring you, his or her protégé, to this level of professionalism. Sometimes, a mentor, for a variety of reasons, does not or cannot fulfill that role.
Michelle faced such a situation. "Though my mentor was great and friendly," Michelle told me at the end of her first year of teaching, "I did not feel that I had the ongoing support I would have liked. It would have been wonderful for her to suggest a meeting time on a weekly basis especially at the beginning of the school year just to check in and review how my classes had gone that week. Sure, she said that although she didn't have a lot of time to spend with me, she would try to make time available if I had any questions. The problem was I had questions ALL THE TIME and would have liked her to initiate some feedback sessions."
Michelle was fortunate in that she had a "great and friendly" mentor, but unfortunately, one who did not meet her need for regular feedback sessions. Although Michelle would have liked her mentor to initiate a schedule of feedback sessions, she did not; in fact, her mentor probably did not even realize that Michelle wanted her to take that step. Michelle neglected to assume any responsibility for getting her need met; consequently, it was not. She was perfectly within her rights – indeed within her professional responsibility – to have expressed her need to her mentor.
Feedback and How to Receive It
In the above scenario, Michelle wanted opportunity for feedback from her mentor. Just what is feedback, what is your responsibility in the process, and how can it help you learn to teach better?
Feedback is a way of providing people with information about their behavior and how those behaviors affect others. Your mentor's responsibility is to provide you with feedback that is
descriptive rather than evaluative,
specific rather than general,
solicited rather than imposed, and
timely; i.e., given as soon after the event as possible.
In order to receive feedback when you want it, you need to request it; that is your responsibility. In order to benefit from feedback, you need to be open to hearing it; that, too, is your responsibility.
The following suggestions will help you be ready and able to receive feedback.
Focus on what is being said rather than how it is said;
Focus on feedback as information rather than as criticism;
Concentrate on receiving the new information rather than focusing on defending the old; and
Probe for specifics rather than accept generalities; and
Protégés can give feedback, too. Lonna is a mentor who not only specifically tells her protégés that they are in charge of their own learning, but she also has a rule that encourages them to be responsible for doing so. The rule: "If I say anything that you do not understand, it is my fault because it is my responsibility to mentor, and that includes explaining concepts, suggesting procedures, etc. so that you will understand. However, I won't know that you don't understand unless you tell me. So you must be responsible for your own learning by giving me feedback — by letting me know I didn't meet my responsibility for mentoring."
Consider this scenario. Earlier in the day, Benna and her mentor, Frank, had met for a post-observation conference during which Frank pointed out Benna's difficulty in keeping a particular student engaged in the lesson, and then went on to another subject. When Benna met Frank later in the day, during lunch, Frank asked her how she thought the conference went.
"Fine," Benna said, "except that when you pointed out that I did not engaging Jimmy in the lesson and then you left the subject hanging with no opportunity for further discussion, I felt confused and unsure of what to do next."
Benna's feedback was descriptive, specific, solicited, and timely. As a result, Frank and Benna were able to pursue the problem of engaging students and identifying strategies to use in the future. From then on, Frank was also careful not to leave a subject during a conference with Benna until there was some degree of understanding and closure.
Responsibility to Yourself
It is difficult to establish a healthy, safe, and nurturing classroom environment if you yourself are not well centered. Christopher, a first-year kindergarten teacher in Washington, insists that "Teachers can't forget about the importance of their own mental, emotional and physical health or they will fall apart. Find time to go out with your colleagues to talk about mutual ideas and problems — let off steam. There are tons of kids sneezing and coughing on you every day. You need to be healthy to be a good teacher. I jog in the morning like any good prizefighter."
Responsibility to Others
If you are a newly trained teacher recently exposed to the application of new technologies and research to education, and if you are a partner in a mentor/protégé relationship, you have a responsibility to help others meet their needs in addition to meeting your own. Judith, a mentor-teacher, puts it this way. "I expect and encourage my protégés to contribute to the school's library of new ideas. At the same time that they are drawing from experienced teachers." She goes on to ask, "Shouldn't new teachers be coming to the table with new technological skills and fresh techniques to share with the old guard so that we can grow from their youth?"
Get to Know Your Principal
Beginning teachers can take responsibility for building a professional relationship with their principals by:
asking for professional development opportunities;
seeking assistance in setting up a mentor relationship if a program is not already in place; and
requesting that the principal visit their classroom and give constructive feedback prior to the formal evaluation period.
Clarify Ground Rules Early
Early in your relationship with a mentor, discuss expectations and what you would like to get out of the mentoring experience. Agree on objectives for the relationship. Sort out roles and boundaries. Set schedules. Present your positions and feelings honestly so that there will be no false assumptions.
For example; mentor to protégé: "Since time for us to meet during school hours is at a premium, let's meet in the teacher's room at 7:00 every Monday morning (a half-hour before teachers are required to arrive) to touch bases and plan for the week."
Protégé: "I know we can use the time, but I'm in a car pool. We don't get here until about 7:30. How about after school? I have to wait for the driver then, anyhow."
Mentor: "Not so good for me. I usually use that time to correct papers or review plans for the next day. Is there any way you can get here early on Mondays?"
Protégé: "I don't know… Well, okay. I'll be willing to drive my own car on Mondays if you really think it's the best time."
Mentor: "I'll tell you what. Let's meet in the morning this coming Monday — coffee's on me — and after school next time. If it works out, we can alternate this way. How does that sound?"
Protégé: "It's a deal. See you at 7:00 Monday morning."
In Summary
You get the most out of being mentored when you are able to take responsibility and be proactive in the mentoring process. You will be taking responsibility when you do the following.
Take the initiative when it comes to having your needs as a protégé met.
Avoid making assumptions about your mentor's plans and expectations.
Solicit feedback from your mentor as a way to improve your teaching.
Receive feedback objectively.
Attempt to construct ways to learn from seemingly untenable situations.
Take responsibility for your personal well-being.
Contribute to the learning of other educators.
Finely, my very best wishes for a productive and gratifying teaching career!
***********************************************
This article is an adaptation of Chapter 2 form the book Being Mentored: A Guide for Protégés, by Hal Portner, published 2002 by Corwin Press.