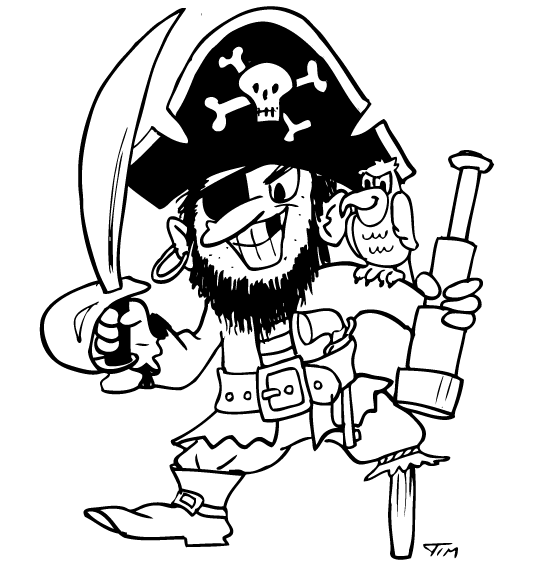 Click Here To Color This Drawing Online At Coloring.Com
The Classic Pirate
The word "pirate" comes from the Latin word "pirata" which, in turn, comes from the Greek word "peira" and means to experience or attempt something, but can also mean peril or danger. Most of us have heard about or seen pirates in the movies or on TV or read the classic book Treasure Island written in 1883 by Scottish author Robert Louis Stevenson. It is a tale of buccaneers and buried gold treasure. One of the main characters of that book is Captain Long John Silver. He had a wooden peg leg, and a noisy parrot perched on his shoulder.
The classic age of piracy in the Caribbean started around 1560 and lasted until the 1720s. . Many pirates came to the Caribbean after the end of the War of the Spanish Succession. Seamen stayed in the Caribbean and became pirates shortly after that. Caribbean piracy began because of fighting among the rival European powers of the time, including England, Spain, Dutch United Provinces, Portuguese Empire and France. Most of these pirates were of English, Dutch and French origin.
Because Spain controlled most of the Caribbean, many of the attacked cities and ships belonged to the Spanish Empire and along the East coast of America and the West coast of Africa. Some of the best-known pirate bases were New Providence, in the Bahamas from 1715 to 1725, Tortuga established in the 1640s and Port Royal after 1655. Among the most famous Caribbean pirates are Edward Teach or "Blackbeard" and Henry Morgan.
Magic Arrows

Magic Arrows - is a children's activity with a magic trick showing how you can make an arrow reverse by pouring water into a glass in front of it.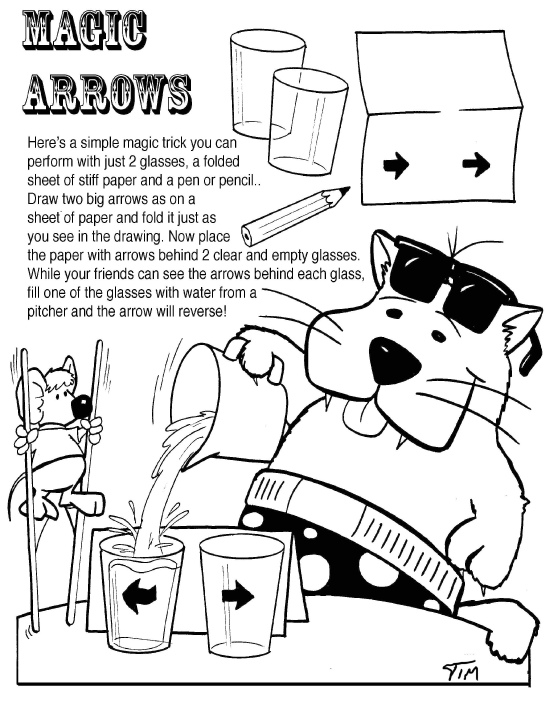 http://www.timtim.com/drawing.php?drawing=001597_Magic-Arrows
And much more available from the TimTim.com homepage

Tim Newlin
Creator of TimTim.com - Free Drawings for Classroom Use