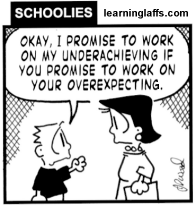 YENDOR'S TOP TEN:
TOP TEN Classic Movie Lines Teachers Can Use:
By YENDOR
In lunch line: "Gimme a whiskey, ginger ale on the side. And don't be stingy, baby."
In argument with principal: "You talking to ME? You talking to ME?"
To a complaining parent: "Frankly my dear, I don't give a damn!"
If principal asks you to dance with her/him at prom: "I could dance with you till the cows come home... o second thought, I'd rather dance with the cows when you came home."
When opening Christmas presents: "My mama said life is like a box of chocolates; you never know what you're gonna get."
During a parent conference: "Would you be shocked if I slipped into something more comfortable?"
Before leaving room for bathroom: "I'll be back!"
When asked if you would give easy study notes: "Fuh-get about it!"
When taking out your ink pen: "Excuse me while I whip this out."
The top classic movie line teachers can use:
When introducing yourself: "Yendor.... Mr. Yendor"

Gas

A thief planned to steal priceless paintings from the Louvre. After careful thought, he was able to sneak by security, steal the paintings, and escape to his waiting van, however, he was captured just two blocks away when his van ran out of gas.When asked how he could mastermind such a daring robbery, and then make such an obvious mistake, he had this to say:
"That is why I stole the paintings...
I had no Monet...
to buy Degas...
to make the VanGogh."
(Now do you have DeGaulle to pass this on?)
I'm sending this because I have nothing Toulouse...

Got a letter from Grandma the other day. She writes...
The other day I went up to a local Christian bookstore and saw a "Honk If You Love Jesus " bumper sticker. I was feeling particularly sassy that day because I had just come from a thrilling choir performance, followed by a thunderous prayer meeting; so I bought the sticker and put it on my bumper.
Boy, I'm glad I did!
What an uplifting experience that followed! I was stopped at a red light at a busy intersection just lost in thought about the Lord and how good He is... and I didn't notice that the light had changed. It is a good thing someone else loves Jesus because if he hadn't honked, I'd never have noticed!
I found that LOTS of people love Jesus! Why, while I was sitting there, the guy behind me started honking like crazy, and then he leaned out of his window and screamed, "For the love of GOD! GO! GO! JESUS CHRIST, GO!" What an exuberant cheerleader he was for Jesus!
Everyone started honking! I just leaned out of my window and started waving and smiling at all these loving people. I even honked my horn a few times to share in the love! There must have been a man from Florida back there because I heard him yelling something about a "sunny beach"...
I saw another guy waving in a funny way with only his middle finger stuck up in the air. When I asked my teenage grandson in the back seat what that meant, he said that it was probably a Hawaiian good luck sign or something. Well, I've never met anyone from Hawaii; so I leaned out the window and gave him the good luck sign back. My grandson burst out laughing... why even he was enjoying this religious experience!
A couple of the people were so caught up in the joy of the moment that they got out of their cars and started walking towards me. I bet they wanted to pray or ask what church I attended, but this is when I noticed the light had changed. So, I waved to all my sisters and brothers, grinning, and drove on through the intersection.
I noticed I was the only car that got through the intersection before the light changed again and I felt kind of sad that I had to leave them after all the love we had shared; so I slowed the car down, leaned out the window and gave them all the Hawaiian good luck sign one last time as I drove away.
Praise the Lord for such wonderful folks!
Grandma

Things to Ponder--gotta love #2 in my house
Posted by Bananas
There's always a lot to be thankful for if you take time to look for it. For example, I am sitting here thinking how nice it is that wrinkles don't hurt.

The easiest way to find something lost around the house is to buy a replacement.

You don't stop laughing because you grow old. You grow old because you stop laughing.

A penny saved is a government oversight.

The older you get, the tougher it is to lose weight, because by then your body and your fat are really good friends.

When I'm feeling down, I like to whistle. It makes the neighbor's dog that barks all the time run to the end of his chain and gag himself.

He who hesitates is probably right.

If you can smile when things go wrong, you have someone in mind to blame.

The purpose of a child's middle name is so he can tell when he's really in trouble.

How long a minute is depends on what side of the bathroom door you're on.

If ignorance is bliss, why aren't a lot more people happy?

Most of us go to our graves with our music still inside us.

If Wal-Mart is lowering prices every day, how come nothing is free yet?

You may be only one person in the world, but you may also be the world to one person.

Some mistakes are too much fun to make only once.

Don't cry because it's over: smile because it happened.

We could learn a lot from crayons: some are sharp, some are pretty, some are dull, some have weird names, and all are different colors. But they all have to learn to live in the same box.

Everything should be made as simple as possible, but no simpler.

A truly happy person is one who can enjoy the scenery on a detour.

Happiness sometimes comes through doors you didn't even know you left open.

Once over the hill, you pick up speed.

I love cooking with wine. Sometimes I even put it in the food.

If not for STRESS, some days I'd have no energy at all.

Whatever hits the fan will not be evenly distributed.

Everyone has a photographic memory. Some just don't have film.

I know God won't give me more than I can handle. I just wish He didn't trust me so much.

If you can't be kind, at least be vague.

Dogs have owners. Cats have staff.

We cannot change the direction of the wind, but we can adjust our sails.

If the shoe fits, buy it in every color.

Have an awesome day, and know that someone thought about you today!

QUIZ
Posted by Bananas
The maker doesn't want it; the buyer doesn't use it; and the user doesn't see it. What is it?

A child is born in Boston, Massachusetts to parents who were both born in Boston, Massachusetts. The child is not a United States citizen. How is this possible?

Before Mount Everest was discovered, what was the highest mountain on Earth?

Clara Clatter was born on December 27th, yet her birthday is always in the summer. How is this possible?

Captain Frank and some of the boys were exchanging old war stories.Art Bragg offered one about how his grandfather led a battalion against a German division during World War I. Through brilliant maneuvers he defeated them and captured valuable territory. After the battle he was presented with a sword bearing the inscription "To Captain Bragg for Bravery, Daring and Leadership.World War One. From the Men of Battalion 8." Captain Frank looked at Art and said, "You really don't expect anyone to believe that yarn, do you?" What's wrong with the story?

What is one thing that all wise men, regardless of their religion or politics, agree is between heaven and earth?

In what year did Christmas and New Year's fall in the same year?

A woman from New York married ten different men from that city, yet she did not break any laws. None of these men died and she never divorced. How was this possible?

Why are 1990 American dollar bills worth more than 1989 American dollar bills?

How many times can you subtract the number 5 from 25?

A taxi driver was called to take a group of passengers to the train station. The station is normally an hour away, but with traffic being extra heavy, it took a full hour and a half. On the return trip the traffic was still as heavy and yet it took only 90 minutes. Why?

How could you rearrange the letters in the words "new door" to make one word? Note: There is only one correct answer.

Even if they are starving, natives living in the Arctic will never eat a penguin's egg. Why not?

Which is correct to say, "The yolk of the egg are white" or "The yolk of the egg is white"?

In Okmulgee, Oklahoma, you cannot take a picture of a man with a wooden leg. Why not?

There were an electrician and a plumber waiting in line for admission to the "International Home Show". One ofthem was the father of the other's son. How could this be possible?

After the new Canon Law that took effect on November 27, 1983, would a Roman Catholic man be allowed to marry his widow's sister?

Get the answers here