Motivating HS students to consider college
from the Teachers chatboard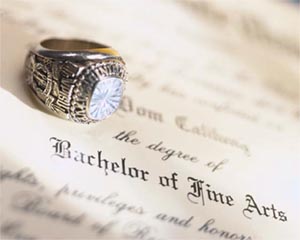 Posted by Bulldog
I wish I could say this is original, but I stole the idea from another teacher...
Have students write down what college they want to go to (regardless of expenses, location, etc.)
Students look up what requirements are for admission - GPA, SAT/ACT scores, AP scores, and so on.
Students make a college pennant with the college logo, name, and entrance requirements.
Hang these in your room to refer to when the students get the mid-semester/year doldrums.
I think this is so cool, I'm doing it with my AP class and my Freshmen classes.

Posted by sss
This is a great idea & think I may use it with my 9th graders... but what about the lower level standard students who already have it figured out that they aren't going to college? What else could we use? The job they want?

Posted by Bulldog
This is a great question. Find out what job they want and then have them contact a local business. Have them ask what kind of education and certification they want their new employees to have. What about a Junior College or Community College to increase marketability and wages? Speak to these students in terms they understand - $$$$$.

Now I did have a young lady that said, "But I just want to be a housewife!" I chuckled and asked her what she thought a housewife did. What skills does it require? Then I had her do a "Day In the Life of..." paper. She decided that she should get at least a 2-year degree so she could help afford what she wanted to have in her "just a housewife" position! It was great!

Posted by Rebecca
I think this would be a great motivator for your junior and senior students. Although you may find that some of the colleges they want to go to actually require less than expected. I was just looking up foreign language requirements for colleges in my state (I teach Spanish) and ALOT less of them than I thought actually required a foreign language to enter.

The freshman and even sophomores I have always worked with haven't the foggiest idea what they want to do with their future (and rightly so, they still have time). So I'm not sure how well it would work with underclassmen. Even if you can convince them to pick a college, they aren't going to look at it as THE college they will go to.

Posted by Pecos
Could you find out what colleges and universities your grads of last year are attending? Could you just assign them schools? Remember that Bulldog did this with AP classes.

Posted by Bulldog
Rebecca and Pecos, in my area, some of the 9th graders are already wanting to go to schools like Duke, Va Tech, UVA, UNC, and other Tier 1 schools. If nothing else, it gives them a goal to shoot for throughout their HS career. Once they leave the class (we're on a 4x4 block), I do the same thing to the 2nd semester classes.

Now I do know that many of the Jr's and Sr's start focussing on the college in 11th grade, but for many of them it is already too late. When they see that their grades won't cut it, some get disgruntled and give up on college completely. I think that by starting in 9th grade, they are able to "keep their eyes on the prize", so to speak.

Posted by Rebecca
Maybe it will work with your freshmen if they are already thinking about it. Most of my freshmen aren't thinking past what is for lunch let alone what they will do when they graduate.

But I agree, it is sometimes too late as juniors and seniors because they goofed off those first years too much. And so we do need to find ways to motivate them as early as 9th grade.

Posted by Guy
Oh, this is a terrific idea for getting kids to look at colleges, and I can see how it might light a spark in kids who otherwise weren't thinking about college as an option.

How about adding an activity in which the students research online the extracurriculars available at their chosen colleges? Hopefully they will lots of interesting resources such as facilities such as athletic fields, stadium, planetarium, theaters, clubs related to areas of interest, all the stuff that adds to the enjoyment of college life. Some kids don't know that there's a lot more to college than the academic courses.

Thanks for sharing this idea. You've lit a spark in me!