Teaching Jobs at a Glance! Updated Hourly!
Bob Reap of Teachers.Net announces:
We've added a new module on the right side of our pages that displays the latest jobs posted in the Teachers.Net Job Center. The module updates hourly, so if you are looking for a job, keep an eye on the handy Teachers.Net Job Listings module so you can get your resume in there in front of the rest!
Teachers.Net Job Center lists the latest jobs posted and other options allow educators to view all listings, search the database of all jobs listed, and post a resume – all free services for those seeking positions. Employers can pay a small fee to post jobs and search the resumes.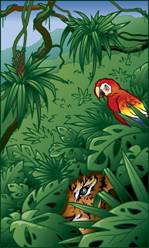 by Laura Candler

You can't open the newspaper without reading about another natural disaster or environmental problem. From global warming to debris floating in outer space, depressing news dominates the media. Often these issues seem beyond our control. But what if you and your students could take part in a project that would actually make a difference on a global scale?

The good news is that you can! With the help of the Earth Foundation, you and your students can help rescue our planet's rain forests! This organization works with other environmental groups such as the Nature Conservancy and Conservation International to purchase acres of rain forest to prevent their destruction and preserve them for future generations. Each year, the Earth Foundation involves thousands of schools across United States in their Adopt-an-Acre campaign. They also educate teachers about the rain forest by offering a free10-day trip to the rain forest for one teacher in each school that saves over 100 acres!

The Earth Foundation project is very simple to implement and it has contributed millions of dollars rain forest protection over the last 18 years. I've been involved with this project for about 10 years, and I know that it's a worthwhile organization. My school was able to save over 100 acres last year by selling 1175 shirts, and one teacher at our school actually did win that trip to Costa Rica!

To get involved, call Kellie at the Earth Foundation (1-800-5MONKEY) and ask her to send you a rain forest project kit. It includes a CD with teaching materials, two DVD's with beautiful documentaries about the rain forest, and sample t-shirts. You can also visit the Earth Foundation website to learn more and see this year's t-shirt designs.

To make this project easy for others to get involved, I've created a page on my Teaching Resources website devoted to Rain Forest Resources. You'll find tips about how to make your project successful, along with samples of all the letters and forms we are using this year. You can even download the forms and customize them for your own use. I've included links to all my favorite rain forest children's books and other resources that would be helpful.

Supplementary materials are available at www.lauracandler.com/science/rainforest.htm.

Train Your Brain
Train Your Brain More: 60 Days to a Better Brain, Better Brainpower, Better Memory, Better Creativity is written by Dr. Ryuta Kawashima, Professor of Neuroscience and head of the Functional Brain Imaging Center at Tohuku University. His successful research, especially with Alzheimer's patients, is revolutionizing health care around the world. His first book, Train Your Brain sold 1.2 million copies in Japan and he is the hero of Nintendo's hugely successful game BRAIN AGE.

Children's Book on Divorce
Where Am I Sleeping Tonight? - Story of Divorce by Carol Gordon Eksteris about a shared custody agreement and is appropriate for the elementary school child. From the back cover: "Ever wake up and not know where you are? Not sure if your homework is due today or tomorrow? Can't remember if you have hockey practice tonight? Forgot your homework at your Mom's and now you're at your Dad's and can't get it done? Welcome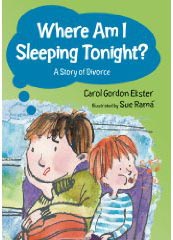 to the world of Mark and Evan. Ever since their parents' divorce their lives and schedules have been scrambled leaving them feeling confused, frustrated,and even a little angry with their parents for getting a divorce. But with time, effort, and the assistance of Mark's parents and teacher, Mark gets a little more organized, and most importantly, starts to come to terms with his parents' divorce."

The author's hope is that "parents, teachers, and counselors will have an opportunity to use this book as a vehicle to discuss and come to terms with this difficult situation. It can also make children who are not dealing with divorce more empathetic to their friends who are experiencing this life altering change." www.carolgordonekster.com

Continued on next page »