If you're as long in the tooth as I am, you can probably remember Patti Page's rendition of "How Much Is That Doggie in the Window?" Page recorded the song on December 18, 1952, and within a few months it became Number 1 on both the Billboard and Cashbox charts.
And you can probably remember James S. Tippett's "Sunning," a poem that appeared in one of his children's books, A World To Know.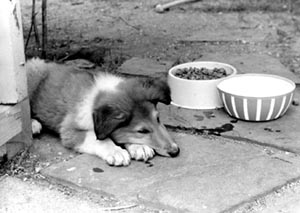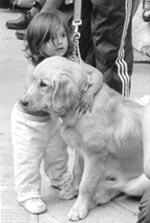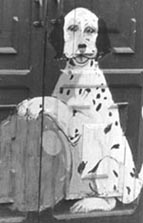 Sunning

Old Dog lay in the summer sun
Much too lazy to rise and run.
He flapped an ear
At a buzzing fly.
He winked a half opened
Sleepy eye.
He scratched himself on an itching spot,
As he dozed on the porch
Where the sun was hot.
He whimpered a bit
From force of habit
While he lazily dreamed
Of chasing a rabbit.
But old dog happily lay in the sun
Much too lazy to rise and run.


James S. Tippett
Truth to tell, Tippett's poem doesn't contain simile, metaphor, irony, allusion, or any of the other literary devices that are found in more sophisticated works. But that really doesn't matter. Together with one or more photos of dogs like those shown here, simple poems like "Sunning" can easily inspire students at all levels from elementary school through college to write many different kinds of compositions.
Who are some famous dogs that have appeared in literature, on television, and in films? What characteristics do dogs possess that make them desirable pets? In what ways can some breeds of dogs be helpful to handicapped human beings? How have dogs proven to be helpful in the military? In law enforcement agencies? How has a dog played an important role in your life or in the life of someone you know?
The questions cited above are just a few of many you can ask students as you encourage them to write either expository or creative pieces. What's more, if you simply want to allow your students' imaginations to guide them, you could always show them photos without comment.
The Case of the Fragmented Photo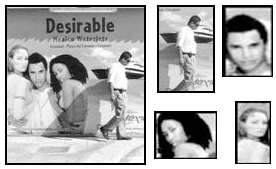 Most photographers would wince at the thought of cutting a perfectly good photograph into several parts. And most teachers would wonder how anyone could possibly use a fragmented photo to teach point of view in fiction and in writing.

But that's not the case with Kelsey Maki, an adjunct professor at Brookdale Community College, Lincroft, New Jersey.

"After I cut an 8 ½ x 11-inch photograph with diverse elements into numbered pieces," she writes, "I give a different piece to each of several students." Then Maki asks the students to create a fictional character and write a scene in the first person from that character's point of view. Maki also directs the students to consider the ways in which a character's desires color his or her perception of place.

At the conclusion to the exercise the students assemble the parts of the photograph to see the third person, omniscient "big picture" scene. "This activity," concludes Maki, "helps the students realize that a setting is never an evenly focused, objective portrait, but rather a reflection of a character's physical point of view and physical state."

Continued on next page »