Why do different schools perform differently in the same area? Why does a single school perform differently in different periods of time? What makes the difference? These are questions that keep raising endless debates in national and international symposia. This article attempts to answer the issue to some extent.
A study1 on European Commission's aid to Education defines `quality in education' as a `function of increased opportunities (access) and availability of educational inputs (classrooms, teachers, textbooks, etc.), the quality of these inputs, the quality of learning outcomes and finally the quality of (the) education system's administration'.
However differently we may perceive the term `quality' in educational settings, what actually happens in our classrooms ultimately determines the level of quality education that children acquire. As classroom processes are a component of whole school culture, the quality aspect is related to the characteristics of schools.
A report2 published by the U S Department of Education Office of Educational Research and Improvement says, "Student learning is, in part, a function of various characteristics of the schools and the process of schooling. Examining the characteristics of schools that are related to learning illuminates some of the reasons why students are, or are not, learning at optimum levels".
Unlike in the past, when schools were viewed as institutions of learning in which specific knowledge, skills and attitudes were taught, today they are seen as catalysts of social change. Communities expect schools to not only impart quality education to their children but also collaborate with the community. Classroom processes affect pupils, parents, local community (and the `global village' at large), job market and higher education much more today than ever before, as global economy gets increasingly consumer oriented.
A few decades back, schools began using the "Input – Processes – Output" model to monitor their development and trouble shoot difficulty areas appropriately. There are numerous instances when this Industry model yielded expected outcomes. If used with care and precision, this approach is very useful to identify any discrepancies between expected outcomes and the outcomes at any particular instant of time as illustrated in
Fig. 1.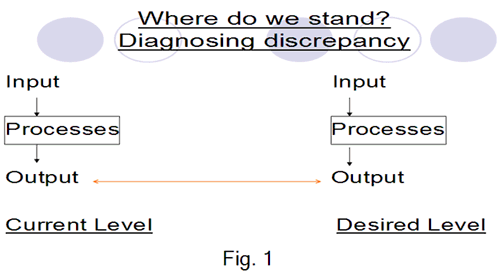 The whole exercise involves specific identification of the three components (Input, processes and Output) followed by appropriate interventions.
Measures of input, the resources used in a system, can not usually be changed at will, at any instant of time in most school settings. These measures can be broadly classified as Human resources (Teachers, pupils, other workers in the school, community and the school governing board) and Material resources (Curriculum and textbooks, teachers' guides and other facilities in the school such as library, labs, playground etc).
Whether the school system is in a remote village or a large city, one of the most important resources of input to the system would be an effective curriculum. It is beyond doubt that any good curriculum should help children (i) to understand lesson concepts in a holistic way, (ii) to apply the knowledge and skills gained in problem situations and (iii) to develop proper attitudes and behavior.
An effective curriculum goes hand in hand with effective teachers, who are motivated, who have passion in their profession, who can communicate at their children's level, who can see themselves as surrogate parents during the school hours and most importantly, who can empathize with all stakeholders.
If we look at educational research findings, a large part pertains to classroom processes, the single most powerful indicator of quality in school systems. Although there are countless number of classroom processes that we can come across within a single classroom, for simplicity and convenience of study, let us consider the processes under two broad headings: Traditional and Constructivist, as put forward by Sheerens 3 as follows:
Traditional
Emphasis on basic skills
Subject matter>Processes
Structured approach:
Pre-specified objectives
Small steps
Frequent questions/feedback
Reinforcement through high level of mastery
Abstract generalizable knowledge
Standardized achievement tests
Constructivist
Emphasis on high order skills
Processes>Subject matter
Discovery learning:
Rich learning environment
Intrinsic motivation
Challenging problems
Situation-specific knowledge and learning from case studies
Achievement; Less circumcised alternative procedures
Continued on next page »


» More Gazette articles...