Every morning Barb/MI posts an inspiring or thought-provoking quotation selected especially for educators, referred to as an "Apple Seed," on the main chatboard. The "Apple Seeds" she posted during last month are compiled here...
Be sure to use the Printable link following this list to print out an attractive poster worthy of sharing with teachers and school administrators, and to file for use as a reference tool whenever you need a great quotation!
What people say you cannot do, you try and find that you can.
~ Henry David Thoreau
Never tell anyone that something can't be done. It may have taken centuries for someone ignorant enough of the impossible to do that very thing.
~ J. R. Holmes
It's what we learn after we know it all that counts.
~ John Wooden
Not everything needs to be fixed.
~ Randy Pausch
As you grow older, you'll find that the only things you regret are the things you didn't do.
~ Zachary Scott
To love what you do and feel that it matters – how could anything be more fun?
~ Katharine Graham
The real winners in life are the people who look at every situation with an expectation that they can make it work or make it better.
~ Barbara Pletcher
The beauty of daylight-saving time is that it just makes everyone feel sunnier.
~ Edward Markey
No matter what you accomplish in life, somebody helps you.
~ Wilma Rudolph
When we set exciting, worthwhile goals for ourselves, they work in two ways. We work on them, and they work on us.
~ Bob Maowad
No matter how bad things are, you can always make things worse. At the same time, it is often within your power to make them better.
~ Randy Pausch
For every obstacle there is a solution – over, under, around, or through.
~ Dan Zadra
The greatest thing in this world is not so much where we stand, as in what direction we are moving.
~ Goethe
Far away, there in the sunshine, are my highest aspirations. I may not reach them, but I can look up and see their beauty, believe in them, and try to follow where they lead.
~ Louisa May Alcott
Beware the Ides of March.
~ William Shakespeare
Reach beyond your grasp. Your goals should be grand enough to get the best of you.
~ Teilhard de Chardin
A friend's eye is a good mirror.
~ Irish proverb
Time is finite.
~ Randy Pausch
My interest is in the future . . . because I am going to spend the rest of my life there.
~ Charles F. Kettering
No matter how long the winter, spring is sure to follow.
~ Guinean proverb
When one door closes, another opens; but we often look so long and so carefully upon the closed door that we do not see the one that has opened for us.
~ Alexander Graham Bell
Anything one person can imagine, other people can make real.
~ Jules Verne
The greatest thing you can do for any individual or any group in your day is to help them find the best.
~ Katherine Logan
Working together works.
~ Rob Gilbert
Time must be explicitly managed, like money.
~ Randy Pausch
If we did all the things we are capable of, we would literally astound ourselves.
~ Thomas Edison
Nothing splendid has ever been achieved except by those who dared believe that something inside them was superior to circumstances.
~ Bruce Barton
A year from now you may wish you had started today.
~ Karen Lamb
Success doesn't come to you. You go to it.
~ Marva Collins
If you love what you do, you will never work another day in your life.
~ Michael Nolan
Set your sights high, the higher the better. Expect the most wonderful things to happen, not in the future, but right now.
~ Eileen Caddy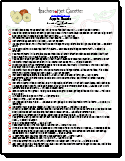 Printable "Apple Seeds" in pdf format


» More Gazette articles...