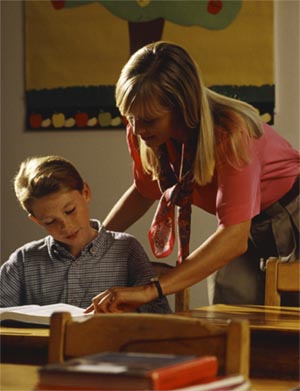 When I write these articles for Teachers.Net Gazette, I discuss proven teaching and learning practices, suggest effective teaching and learning materials, and provide helpful hints for professional growth and development. Although I may not often say so, not far behind my suggestions and advice stands the fundamental philosophy that guides what I write:
The cornerstone of quality education in our schools is what happens between teacher and student – high quality teaching leads to high student achievement.
The No Child Left Behind (NCLB) Act requires a "highly qualified teacher" in every core-subject classroom. By high quality teaching, I mean pretty much what NCLB means by the term, "highly qualified": having a thorough knowledge of content and the skills to teach that content. But I also mean by high quality teaching that in addition to teaching content, high quality teachers teach children … and they understand how to teach them. Am I talking about pedagogy and instructional methodology? Yes. But I am also referring to something else; an intangible element that high quality teachers possess and intentionally add to the mix.
In order to illustrate the nature of this intangible element, I would like to share with you, with his gracious permission, "Teach To That One Student," one of over 400 Random Thoughts written by Prof. Louis Schmier, Department of History, Valdosta State University, Valdosta, GA.
Teach To That One Student
Always be there for that one person. Each student is an American treasure, an invaluable piece of the future. Each is as valuable as our national parks, as stirring as any bird's melody, as towering as any redwood, as majestic as any snow-capped summit, as glorious as any landscape, as beautiful as any flower, as entrancing as any seascape, as moving as any sunrise. Each is a noble and sacred human being.
Teach With An Unshakable Faith In That One Student
Stay the commitment. Focus on the journey, on the "ing" of thing, not on the "wished for "or "prayed for" goal; focus on today's learning, not on the prayer wishing they would learn.
Teach To That One Student With A Unconditional Love
Nurture that struggling soul reaching out for acceptance. Love brings meaning to teaching that particles of information and the movement of method cannot.
Teach To That One Student With A Bold Courage
Stay in the light, be at home in your inner light and shut out those around you who would turn off the light.
Teach To That One Student With Boundless Expectations
Each moment in a classroom is a moment of power, a moment of change, a moment that can make a difference. Big events and great ideas can happen in small spaces like a classroom.
Teach To That One Student With Your Spirit Firmly Secured In An Unswerving Belief
Don't just look for a miracle every day; find one and see it and celebrate it. Be that busy bee that always will find sweet nectar in the most unlikely and unexpected places.
Teach To That One Student With Your Spirit Securely Anchored In Unending Hope
Never surrender your hope. Hope won't let you expire. It will drive you to aspire and inspire. A teacher can't be a complete teacher without hope.
Teach To That One Student With An Unrelenting And Uncompromising Tenacity
When there is a setback, when there is a disappointment, look for the flower budding among the jagged rocks, that single bloom in the supposedly lifeless desert. It's there.
Teach To That One Student With An Excited "Wow!!" Not A Tired "Yuk"
Celebrate each step as a milestone even if others don't know about it or think it's only an inch and a pebble. Whatever little part you do is far better than doing nothing.
Teach To That One Student With An Eternal Smile In Your Soul And On Your Face, And A Tootsie Pop In Your Hand
Exercise, utilize, build up those tiny muscles around your eyes, cheeks, and lips. Tiny they may be, but powerful they are. They can lift up a heavy heart and weighty spirit, and release goodness from the body and soul. A smile is a flashlight that shines your spirit, enthusiasm, and optimism for each student, on each student.
I have been inspired for several years by Louis Schmier's Random Thoughts. You, too, can read them by visiting either of his websites http://www.halcyon.com/arborhts/louis.html or http://therandomthoughts.com . Two newly published volumes of his are RANDOM THOUGHTS III, Teaching With Love, and RANDOM THOUGHTS IV, The Passion of Teaching.
As Prof. Schmier is wont to say, Make it a good day!