I had the privilege of spending a lot of time reading this summer. Here are some random and miscellaneous notes and quotes, which you might like to ponder as you begin a great new school year. And, at the end, a specific recommendation—the best book I've read in a long, long time. It's available right now for less than $10 used from Amazon.com.
Some Notes & Quotes:
"No one seeking public office, from the president on down, can be on an election ballot unless he or she has spent one full day observing a classroom in urban and suburban, elementary, middle, and high schools. Six days of observing is not too much to ask of people who will be in a position that mightily influences the lives of students, educators, parents and the course of our educational life." ~Seymore Sorenson in his latest of fifteen books.

58% of high school graduates never read another book for the rest of their lives.

42% of college graduates never read another book after school.

80% of US families did not buy or read a book last year.

70% of US adults have not been in a bookstore in the last five years.

And 57% of new books are not read to completion. In fact, most readers reportedly don't get past page 18 in any new book they purchase.

Nearly half of NY City's 18,488 middle school students have been held back at least once. 1,300 of them are at least two grades overage.

Tomorrow, some 2.7 million American students who should be in the classroom will be somewhere else.

About 2,400,000 children in the U.S. have a parent in jail. It is estimated that without help from a caring, involved adult, 70% of those kids could easily follow their mother or father's footsteps.
"In the most recent year for which data are available, handguns killed 334 people in Australia, 197 in Great Britain, 183 in Sweden, 83 in Japan, 54 in Ireland, 1,034 in Canada and 30,419 in the United States." Jimmy Carter's latest book.

"A teacher's day is one-half bureaucracy, one-half crisis, one-half monotony, and one-eightieth epiphany. Never mind the arithmetic." Susan Ohanian

"Four major factors driving students' standardized test performance aren't even within schools' control, according to a new Educational Testing Service study. Simply by knowing
The percentage of students who were often absent,
Raised by a single parent,
Not read to daily, or
Watched five or more hours of TV daily,

Researchers were able to predict each state's results on a federal test with "impressive accuracy. The states that scored lowest tended to be those that had the highest percentages of children who met each of the four criteria." The New York Times
"At a time when a college education is the ticket to success, only 7 percent of low-income students will earn a college degree (Haycock, 2005). About half of those who enter college "will never return for a second year" (Olson, 2005, p. 18).
"Children are effortlessly and inconspicuously learning an average of 20 words a day even before they enter school. By the age of six children have a vocabulary of about 10,000 words." Frank Smith
"Schools are places organized on the bizarre expectation that groups of children and youth of the same age "learn" at roughly the same rate and in the same ways."
"On Tuesday September 11, 2001, at least 35,615 of our brothers and sisters died from the worst possible death, starvation. Somewhere around 85% of these starvation deaths occur in children 5 years of age or younger. Starvation doesn't just happen on Tuesday September 11, 2001, it happens everyday, 365 days per year, 24 hours per day, it never stops." A human being dies from hunger-related causes every 2.43 seconds. Yet it doesn't have to be that way..."
In The Nation, "With just the amount of the Iraq budget of 2007, $138 billion, the government could instead have provided Medicaid-level health insurance for all 45 million Americans who are uninsured. What's more, we could have added 30,000 elementary and secondary schoolteachers and built 400 schools in which they could teach.
From "Results Now: How We Can Achieve Unprecedented Improvements in Teaching and Learning" by Mike Schmoker. If you care about student learning, these findings are chilling.
Classrooms in which there was evidence of a clear learning objective: 4 percent
Classrooms in which high-yield strategies were being used: 0.2 percent
Classrooms in which there was evidence of higher-order thinking: 3 percent
Classrooms in which students were either writing or using rubrics: 0
Classrooms in which fewer than one-half of students were paying attention: 85 percent
Classrooms in which students were using worksheets (a bad sign): 52 percent
Classrooms in which noninstructional activities were occurring: 35 percent
"Harris Cooper at the Univ. of Missouri has concluded that homework from K - 9 is usually counter- productive and should be abolished while it may occasionally, given our Prussian-derived teach'em-test'em paradigm, help in high-school."
"Most of us are tactful enough with other adults not to point out their errors, but not many are ready to extend this courtesy (or any other courtesy, for that matter) to children." John Holt
"Parents know that their year will be a good or bad year depending on who their child's teacher is." Seymore Soranson, And What Do You Call Learning
"The research stretching over a 60-plus year period has consistently demonstrated the same thing: that retention in grade does not improve performance in subsequent years' achievement and bears a strong relationship to dropping out of school later. Prof Mary Lee Smith wrote in e-mail to The Miami Herald. No other body of research is so strongly one-sided, yet policy makers and politicians point to it as a way to improve performance." The Miami Herald 7/12/08
"Whatever administrators above the level of principal know about quality of classroom teaching and learning is third and fourth-hand verbal and written reports. How do administrators know what is going on in the classrooms? How many times in the course of a school month or year should an administrator visit and observe a classroom to make a judgment as to how well a school policy is being appropriately reflected in a classroom? We have no data. It has literally not been studied.
"I must rely on my personal experience, and what teachers and principals have, without exception told me: Those who are above the level of principal visit from zero to one time. No teacher ever was visited by the superintendent. In fact, teachers guffawed when I would ask about the superintendent. Generally speaking, teachers view administrators as conveyors of policies and directives, the choice of curricula, criteria for grading, and what is to be contained in report cards, the programs for staff development days, and legal knowledge about student absences, suspensions and expulsions." Seymore Sorenson
School is the world's largest enterprise; larger than agriculture, industry, or warfare. School's rivals for the educational dollar are demonstrably small by comparison." Everett Reimer
"Will there be standards for empathy, cooperation, creativity, and joy?" Krystal England
READING RECOMMENDATION
The best book I have read in the past year: Lessons for Tomorrow, Edward L. Davis, Lessons for Tomorrow , Edward L. Davis (2006, Orgone Press, Northport Michigan, 294 pages, $14.95). "This book does a refreshing, enjoyable, practical read on why American education is obsolete and what a new system might look like." Bill Page
"It (education) can't be fixed. It shouldn't be fixed. It's not broken. It's obsolete."
"To the educrats, the politicians, and a large percentage of the biggest industry (more than three million K-12 public school teachers) in the U.S. this book will be disruptive, disorienting and threatening."
"The remedy lies in building strength through numbers—the strength that comes from having learned about learning."
"Ignoring what we now know about teaching and learning, and failing to act is surely our most costly national failure."
Read and enjoy. Bill Page
billpage@bellsouth.net




About Bill Page ...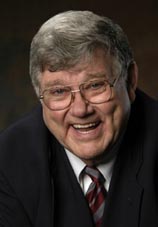 Bill Page, a farm boy, graduated from a one-room school. He forged a career in the classroom teaching middle school "troublemakers." For the past 26 years, in addition to his classroom duties, he has taught teachers across the nation to teach the lowest achieving students successfully with his proven premise, "Failure is the choice and fault of schools, not the students."
Bill Page is a classroom teacher. For 46 years, he has patrolled the halls, responded to the bells, and struggled with innovations. He has had his share of lunchroom duty, bus duty, and playground duty. For the past four years, Bill, who is now in his 50th year as a teacher, is also a full time writer. His book, At-Risk Students is available on Abebooks, Amazon, R.D. Dunn Publishing, and on Bill's web site: http://www.teacherteacher.com/
In At-Risk Students, Page discusses problems facing failing students, "who can't, don't and won't learn or cooperate." "The solution," he states, "is for teachers to recognize and accept student misbehavior as defense mechanisms used to hide embarrassment and incompetence, and to deal with causes rather than symptoms. By entering into a democratic, participatory relationship, where students assume responsibility for their own learning." Through 30 vignettes, the book helps teachers see failing students through his eyes as a fellow teacher, whose classroom success with at-risk students made him a premier teacher-speaker in school districts across America.



Bill Page Articles on Teachers.Net...

Related Resources & Discussions on Teachers.Net...