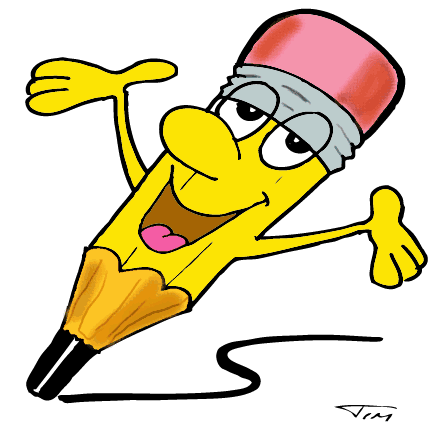 Chinese Royalty and Cedar Wood
The History of the Pencil
In ancient Rome, scribes wrote on papyrus with a thin metal rod called a stylus. Some of these early styluses were made of lead. Today we still call the core of a pencil the "lead" even though it is made from nontoxic graphite. Graphite became commonly used in 1564 after the discovery of a large graphite deposit in Borrowdale, England. Graphite made a darker mark than lead, but was so soft and brittle that it needed a holder. At first, sticks of graphite were wrapped in string. Graphite was also sandwiched between wooden slats, then later inserted into wooden sticks that had been hollowed-out by hand! Pencil graphite is mixed with clay - the more clay the harder the pencil.
In the pencil's early days school masters did not want their students to use pencils because this allowed them to erase their mistakes! Early pencil erasers were made of such things as old bread!
The first mass-produced pencils were made in Nuremberg, Germany in 1662 and were unpainted, to show off their high-quality wood casings. However, by the 1890s, many manufacturers were painting their pencils and giving them brand names. Eraser tipped pencils were first patented in 1858.
Early American pencils were made from eastern red cedar, a strong wood that grew in the southeastern United States. But by the early 1900s, pencil makers were running out of red cedar and had to find another source. Many wood types were tried, but the public wanted that special smell of cedar wood. Some pencil makers even dipped common pine wood in cedar oil to give it that special color and smell. Finally, a large source of incense cedar was found in California's Sierra Nevada mountains, and this soon became the standard wood for almost all the world's pencils.
Pencils have been painted yellow ever since the 1890s. This was because the best graphite in the world came from China. In China, the color yellow means royalty and respect. Pencil makers wanted a way to tell people that their pencils used Chinese graphite, and so they painted them yellow. So next time you want to write a note, letter, or story or want to make a drawing, try to imagine that you are a pencil and remember this advice:
You will be able to do many great things, but only if you allow yourself to be held by some one. You will experience a painful sharpening from time to time, but this is needed to become a better pencil. You will be able to correct any mistakes you might make. The most important part of you will always be what's inside.
Tim Newlin
Creator of TimTim.com - Free Drawings for Classroom Use