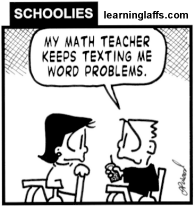 YENDOR'S TOP TEN:
MORE TOP TEN MOVIE QUOTES FOR TEACHERS
By YENDOR
This is my room - and you're all here! And I'm not gonna leave here ever, ever again because I love you all. There's no place like home! (Wizard of Oz)
Look! Every time the bell rings a teacher smiles. (It's A Wonderful Life)
Go – proclaim liberty throughout all the lands, and to all the inhabitants thereof. It's SUMMER VACATION! (Ten Commandants)
I was to think of these days many times. Of Jem and Dill and Boo and Tom Robinson - and Atticus. Meanest kids I ever saw. And they would be back tomorrow. (To Kill A Mockingbird)
Either he's dead or my watch has stopped. (A Day At The Races)
Stella! Steeeeelllaaa!!!!!!! SIT DOWN! (On The Waterfront)
What we've got here class is.... a failure to communicate. (Cool Hand Luke)
You've got to ask yourself one question, kid. I have the red pen. And to tell you truth in all the excitement I don't remember if I have enough ink left to give you an F. You've got to ask yourself one question : Do I feel lucky? Well, Do you punk? (Dirty Harry)
Ok class... the report cards. They'rre heee-re. (Poltergeist)
Ok class.... I'm your teacher for the year. Be afraid. Be VERY afraid. (The Fly)

Taking the Plunge
By Mrs. Mimi
Mrs. Mimi's Blog It's Not All Flowers and Sausages
I did it. I really did it. I went back to school.
ugh.
Now, many of you may think of me as a particularly dedicated, rock-star of a teacher. (Which is, of course, correct.) However, it may come as a surprise to you when I admit that I have NEVER gone in to my classroom one second before I was officially required to. That's right, no summer time room set up for me. Really.
Perhaps it is because I spent most of my childhood summers in my mother's classroom and have been hanging her bulletin boards from the time I could safely wield a stapler (which was exactly one year after I stapled my hand to the wall... yea, Mom tried pimping me out a bit early). Once my talent had been discovered, I was shuttled all over her school and commissioned to hang boards in all her friends' rooms, too. I say "commissioned" because my bulletin board skills were (and still are, although I care about them considerably less) amazing.
Needless to say, these early experiences have scarred me deeply and I now avoid school in the summer like the plague. And in every other year, we have been officially required to report back 10 days early. 10 days...sounds like a lot, but it gets you off to a great start! Then it was 7 full days. Then 5. Last year we had 4. And this year... 2. 2 days.
Any teacher worth anything knows that 2 days is not enough to arrange a room, make plans and get yourself physically and mentally ready for the start of the school year. (And personally, if you DO think two days is enough, I think you are worthless... c'mon, this job is HARD!)
So I went back. And spent five hours of my precious summer cleaning up old mouse pee and poo (thank you Master's degree!), moving furniture and pulling all sorts of crap that I can't remember why I saved, out of my closets. Seriously, just let the old markers go.... don't cram them into a bucket and stick them randomly into a closet like I did at the end of the year. Hoard much?
In addition, I have spent HOURS at home working on curriculum, etc. (Nerdily, I LOVE that stuff and there never seems to be enough time to think deeply about it once the year starts.) Granted, planning social studies and science is MUCH easier from my beach chair while clad only in my fabulous new two-piece and some sun tan lotion...
I guess that all this really just means that...it's on.
About Mrs. Mimi
Teachers.Net: Who is Mrs. Mimi? Let's ask her!
Mrs. Mimi: I am a public school teacher who loves her job but is routinely frustrated by all the drama...so I have to make it funny so I don't routinely poke myself in the eye...
Teachers.Net: Tell us about your blog, Mrs. Mimi!
Mrs. Mimi: It's Not All Flowers and Sausages is a blog for TEACHERS WHO ROCK and are frustrated by the day to day drama that gets in the way of our interactions with children. Don't get me wrong, I love my job, but sometimes a girl has gotta vent..."
Teachers.Net: Mrs. Mimi, can Teachers.Net Gazette readers look forward to reading more of your unique perspectives about teaching in future issues?
Mrs. Mimi: I'd love to write regularly for the Teachers.Net Gazette!