"Across the world there is a passionate love affair between children and computers. And more than wanting [computer technology], they seem to know that in a deep way it already belongs to them. They know they can master it more easily and more naturally than their parents. They know they are the computer generation."
—Seymour Papert, "The Connected Family", 1996
Most high school science curricula place emphasis on not only how deeply students learn science concepts but also how effectively they can perform science experiments. In many rural schools, particularly in the third world, laboratories don't exist; although there are labs in urban schools, they don't offer opportunities for individualized learning due to large pupil intakes, quantity oriented curriculum, time constraints etc. Is there a viable solution? This article attempts to answer the question.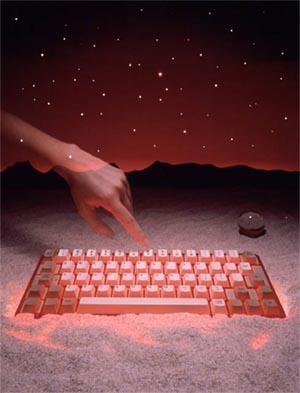 Thanks to rapid development in information technology, all real life situations can be simulated on our computer screens, by using simple packages such as JAWA, Flash or Real media. With an increasing number of e-learning companies and academic websites offering virtual laboratories, it is easier today than ever before, for a science teacher to use virtual lab. He simply needs to download the virtual experiment from the World Wide Web or buy it as part of an e_learning package from product manufacturers. Virtual labs can help the teacher and the taught, as increasing number of schools experience today. How far? This article touches the top surface of the iceberg.

Virtual labs are useful in many ways, particularly when teaching abstract concepts (such as earth's magnetic field, kinetic theory of matter, electromagnetic induction, photosynthesis, pollination etc) that need deeper insight. Whenever a student has a problem in understanding a particular part of the material, he can freeze or replay the animation and to get better understanding. The interactive element in such learning management systems can offer instant support in assessing students' understanding of lesson concepts (on which the interactive experiments are designed). Sometimes, virtual feedback in LMS is preferable to real teacher feedback as the former is free from any bias. Virtual lab sessions, conducted under the guidance of well-trained teachers, enable students to move on to real time experiments in a more effective manner than otherwise.

Virtual experiments have enabled effective learning in biology without using live animals. Some state government departments of education in the US have begun offering courses in virtual dissection as a viable alternative to traditional dissection of dead animals in school labs.

With numerous virtual lab products and websites, it is of paramount importance for us as educators, to preview and assess the material before using it in the classroom. Growing numbers of universities release K-12 virtual labs that can be accessible online. Some of the best resources are contained in www.virlab.virginia.edu, www.explorelearning.com and www.sciencemag.org.

Although virtual experiments are useful to some extent, they should only be used as additional teaching resource and never as a replacement to activity based real experiments, unless the latter is involves issues of ethics such as animal dissection. Otherwise, we will be leading students in the wrong direction. [As a physics teacher, I have always found the utility value of virtual labs greater when integrated with other methods of teaching, than when using them in isolation].

As in all other areas of science education, how best a teacher uses virtual lab in the classroom is a matter of empathy, passion, commitment and a clear understanding of curricular aims and objectives, all this without losing grip on ground realities related to how children learn, particularly at this moment, when we have just "peeped" into "largely un-chartered" waters! A recent report released by the U.S. Department of Education1, in July 2008, can certainly throw some light on how effectively we can navigate in the waters.

Ms. Nancy Johnson is a high school physics teacher. Usually, before assigning any lab work to kids, she shows a whole class demo. Thanks to virtual learning systems, her job is much easier today. Children enjoy her interactive demo session. She shows a demo experiment to measure the mass of a stone using the principle of moments. Her classroom consists of 30 students, a laptop computer, an LCD projector and a screen. Once the students settle down, she accesses the experiment, in her computer. The first screen image displays 5 tabs, which, when clicked, will enable the user to view the following aspects of the experiment:
Objective (of the experiment)
Theory (behind the lesson concept)
Apparatus (Screen shot showing different components of the apparatus, consisting of the meter-rule, pivot, a set of standard masses, the stone and thin hooks used to suspend the stone and the mass from the rule)
Procedure for doing the experiment
Precautions needed to be taken.
When she clicks "Apparatus", the monitor displays all the components of the apparatus needed for the experiment. In this particular demo experiment, Nancy uses the mouse to move the "standard mass" or the "stone" or both, so that the "rule" is horizontal. As she does it, the readings on the ruler are visible. The screen looks exactly like a video shot of a live experiment. There are three buttons, "Record", "Next" and "Data" at the bottom of the screen. After balancing the meter-rule, she clicks the "Record" button to record the readings in a tabular format. Then she clicks "Next" button. This displays the apparatus as shown at the beginning of the experiment. She repeats moving the "stone" and/or "the known mass" to different locations on the ruler and clicks "Record". Then clicks "Next" button. She repeats the process a few times for varying locations of the stone and the known mass.

Then she clicks "Data" button to view the readings that are already recorded. Now, there are two buttons "Graph" and "Calculations" at the bottom of the screen. She clicks "Graph" to view the graph related to the readings or "Calculations" to view the calculations involved leading to the mean value of the mass of the stone. If she likes to skip "Calculations", she may do so and click the "Result" button to view the mean mass of the stone.
"While reading about science, using computer simulations, and observing teacher demonstrations may be valuable, they are not a substitute for laboratory investigations by students".
- National Research Council (NRC). 2006. America's lab report: Investigations in high school science. Washington, DC: National Academy Press, p.3.
Reference:
1 U.S. Department of Education. July 2008. "Evaluating Online Learning: Challenges and Strategies for Success: INNOVATIONS IN EDUCATION".
http://www.ed.gov/admins/lead/academic/evalonline/index.html