"Siannyany" sent a message to the Teachers.Net kindergarten mailring saying that she has just been assigned to teach kindergarten - for the first time - and she doesn't know where to start in preparing for this wonderful but daunting challenge. The vast community of Kindergarten teachers on the mailring didn't let her down. Here are of some of the helpful responses that appeared within MINUTES, forming a primer for any teacher facing the first day in kindergarten!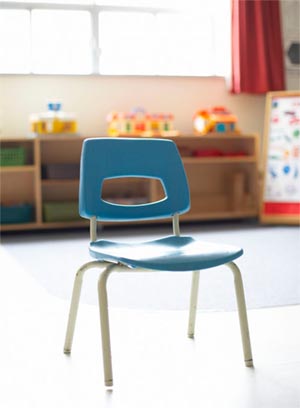 I have never set up a classroom for kindergarten! I don't know how to begin! What is most important the first day?? Siannyany
Within MINUTES, the helpful responses began to flow through this email lifeline, for Siannyany and all other members to read.

ckaake sent these calming words:
First of all, don't panic! Have you taught before or is this your first year? I'm new to K too, but I've done 1st grade for years. Best advice I can give you is to have a plan. Full day or half, any grade level, first days are tough because of all the information you need to give them. You'll use a chunk of time just getting them into the room and taking care of their bags. Bathroom information will be key! Where is it? How do we know if someone is in it? How do you want them to gain permission to use it? I like to structure the day as much as I would any other, so I'll have my "Morning Meeting" next. Name game a few times to get them to know each other. Movement and music sprinkled throughout the day, an art project that they can hang in the room to make it theirs, something for them to take home and share the first day. Of course some center introduction and time for them to explore. Be sure to set the tone right from the beginning. You want them to know what is expected so they can be successful.
Have fun!

Great tips from Yvonne:
The first day is all about teaching routines. Where do they put their jacket, lunch, lunch money. Practice the bathroom routine. I have one for boys (they tend to miss the pot) and one for girls. We practice lining up and waiting our turn and then washing hands afterwards. We also practice how to line up for recess, lunch etc. I find it works well to have them boy-girl-boy-girl. This way they practice patterns in line up. Sitting on the rug with hands in laps, raising their hand for a turn and keeping hands to themselves. By the end of the day you'll be ready to start all over again on day two. I also add in singing and read alouds.
Good luck! I love kinder and hope you do too.

Laurie contributed this step-by-step plan:
Put up your bulletin boards- decide what is going on them. I put up my calendar on one(instead of those cute numbers I make a-b patterns with my calendar numbers. The Ellison [die cutter] press is good for this or have your aide make you some. I do them in different colors and shapes so that when I do calendar each day we are practicing numbers, patterns, colors and shapes… all beginning of the year objectives. I put up a hundred's chart with it, the days of the week, birthdays and my weather things are on doors near it so they are all in the same spot. ABC's should be up on your wall and a number line. I also put up a job chart. I use library card pockets with the kids' names on them so that everyone has a job to do in the classroom. We rotate jobs each week and one child is a sub for when any one is sick. Arrange your room the way you want it - where your desk is going to go, your reading area, manipulatives, puzzles, games. Put up some friendly posters, set up some books for children to read or look at like ABC, color, shapes and 1-2-3 books. Go to a used bookstore and buy children's books. Kohl's has Dr. Suess books for $5 or the used bookstore probably has some too. Your team should be able to help you also. Usually your school gives you a start up budget to work with as a new teacher depending on how affluent your school is. Start planning for the first day the children are there. The most important is to establish your rules of the classroom and let them explore your manipulatives. We are doing a math investigations program so the kids just explore what we have for the first day in math. I usually read them the Kissing Hand or Mrs. Bindergarten gets ready for kindergarten. We usually go over the two most important rules of the classroom- raise your hand and stay in your seat. We draw pictures of each to help them remember and glue them on construction paper. If you have any other questions let me know of if I didn't explain anything clearly. I will try again. Relax it will be fine.

mvp posted this very important advice:
This is going to be my first year setting up a Kindergarten class too. But, what I have learned from the professional development that I have been to is that everything in the classroom must be labeled (name and pictures). There should be welcome signs with both the teacher's name and the assistant's name, if you have one. You should also have the students' names on your bulletin boards so they know that you have been waiting for them. However, above all that you must have your classroom management strategies in place and start to implement them from day one.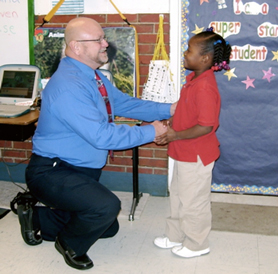 A helpful offer from Bernie Alidor:
My name is Bernie Alidor and I have been teaching kindergarten for 6 years. I know that is not very long, but hopefully I can help. First and foremost RELAX. You will do just fine as long as the kids know you really care about them. Now for what I do on my first day go to: http://teachers.net/gazette/MAY08/ [and click on "An Amazing Kindergarten Teacher"]. I am not saying do everything I do, but take whatever information you need. Good Luck & God Bless, Bernie

READERS: Do you have advice for teachers new to teaching kindergarten?
If so, please share your tips on the Discussion forum below.