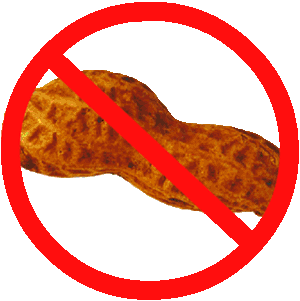 From Teachers.Net Kindergarten Chatboard
anon wrote:
We found out when we returned to work last week that our school has been designated a peanut-free school due to a child who has a peanut allergy. All snacks with peanuts have been removed from the teachers' lounge snack machine (Snickers, Reese's peanut butter cups, peanut butter crackers, etc). Children are not allowed to bring peanut butter sandwiches. Many parents have already expressed extreme displeasure at the no peanut butter sandwich rule. I have even had parents say to me, "What are you going to do if my child has a peanut butter sandwich in his lunch? Throw it away and tell him he cannot eat?"
I know there are several people who are in peanut-free schools. How do you handle this with parents? I understand that this is a life and death situation for this child; however, it is so hard to get parents to understand this. It is frustrating. Absolutely no peanut products can be brought into the school.
Posted by Jacque/WA/K-1/nbct 2006
Tell parents to feed their child a peanut butter sandwich for breakfast and again when they come home, but no peanut products should be sent to school. Some children do react to just the smell of peanuts and some to even trace amounts the rest of us can't even sense. It IS difficult, some will never realize the danger... but the bottom line is that NOT eating peanut butter is NOT life-threatening, while being around peanut butter IS for that allergic child.
We had to check lunches and snacks frequently until everyone realized that they had to read labels on everything. I had to have everyone wash hands with baby wipes constantly. Luckily, the child I had never had a reaction.
Be careful on field trips too. I had a parent that thought it would be okay to bring it on a field trip since she didn't have that child in her car... Hello, what if a car breaks down and I have to shuffle children into other cars? Someone could get sick and not be able to drive home… teachers have to be prepared for all kinds of scenarios.
Luckily they just declared my room peanut free not the whole school although that might have been easier.
Posted by check snack wrapper ingredients :-)
It can work really fine.
I just kept a stash of stuff that was peanut free. Then I sent the peanut item home with a cute nice oops note with a smiley face (I printed off a bunch of them to have on hand).
Kids showed me their snacks & lunchboxes swiftly each morning as they checked in. They were so proud of helping a friend! Fortunately the allergy-type ingredients are required to be listed in boldface on the wrappers. This made it way easier than I thought it would be. I just had to wear my reading glasses.
Some things like M&Ms and yogurt-coated raisins have been processed in a plant that processes peanuts. Surprise. Ditto our supermarket-made cookies.
Our cafeteria sometimes made very rare mistakes. I learned to positively and tactfully quietly check. I'm used to gently looking out for no-pork diets for our Muslim kids and cheerfully intercepting strawberry stuff for a wistful kid with a strawberry allergy ... so my radar is pretty comfortable.
Peanut butter is such an easy lunch that I can (almost) sympathize with parents who are addicted to packing it for school and huffed that they need to keep it at home.
Peanut butter is great stuff. But there are lots of other things kids need to learn to eat to be healthy, and milk rounds out the protein needs. It is also important for them to enjoy helping some friends who need help.
Lots of time to eat peanut butter at home--and wash their hands before coming to school.
Posted by Susan
We have been a peanut free school for 3 years. It is hard for everyone. We have been told NOT to deal with the parents but to send any parent with a gripe or whatever to the office. Just keep in mind a child can die right in front of you and you can't live with that the rest of your life. A junior high student in our state died because she was allergic to peanuts, was making out with her boyfriend who had just eaten a Snickers... sad. Get support from your principal and have some crackers on hand for the selfish parents who send the wrong stuff in the first place.
Posted by almond butter
Our school cafeteria ordered almond butter through the commodity program they used for cookies and other desserts. we absolutely could not tell the difference. Now they do it all the time. You might mention this to parents.
Posted by June/NY on 8/08/08
Using almond butter instead of peanut butter is a nice idea. But be careful some people like myself are not just allergic to peanuts but all nuts.
Posted by Sherry C
Being a parent of a child with peanut allergy (at the highest level!) Suggest to parents that [a sunflower oil product] Sunbutter (can be bought at sunbutter.com ) is a GREAT item to use! Tastes BETTER than peanut butter... and yet it is not like bringing a reg peanut butter sandwich...which is just like bringing a loaded gun pointed at a person that is peanut allergy!
A related video:
Curt Roettig of the SoyNut Butter Company is interviewed in this news piece on state government responses to peanut allergy concerns (1:29)
www.youtube.com/watch?v=wbAWhIOvJ6w