How can I get them to stop talking so that I can talk?

Dear Barbara,

I am relatively new at subbing, and I find that for the most part subbing days are great with the exception of talking. There are times when I want an open exchange of communication, and other times I don't.

How do I let students (who I've only known for a few hours) know when it is OK to have class discussion? Secondly, how do I get the class back to me once the open exchange is over? I feel frustrated, as the students are excited about our discussion, yet I need to move into direct teaching. Just to note, I have tried attention getters such as ringing a bell clapping in unison, saying "class, class" they repeat, "yes, yes" and finger signs. I have even written silently on the board, "I need your attention, close your lips and listen."

It's rather exhausting trying throughout the day to get the students back on track. I don't want to discourage their interactive time either, as I love this time with them. Any suggestions would be greatly appreciated. Thank you for your time and attention to this matter.

Sincerely,
Wendy from New Milford, NJ

Dear Wendy,

All good teachers want students to have a healthy exchange of ideas. That's what effective teaching is all about. If you structure your discussion properly, it will be easier to end it smoothly.

Begin by reviewing rules, such as: only one person talks at a time, hand up or you won't be called on, respect for all ideas. Now you have set the tone. Call on the first student, reflect on his/her comment, and use praise to encourage more sharing of ideas.

When you sense that it's time to move on, say that you'll call on one last person. If anyone would like to add more to the discussion, say that you will walk around the room during independent work and listen to their thoughts. If the discussion was really worthwhile, a reward for finishing work early would be to continue discussion at the end of class.

Here are some helpful ways to get attention when students are talking:
Ask students to raise their hand if they can hear you. Say thank you, pause, and then begin instruction.
Lights out – wait for quiet- lights back on.
Try to whisper your instructions. It's natural to raise your voice, but your volume sends a signal that loud talking is permitted.
Ask a trusted student what the classroom teacher does to get attention. Use that method.
If none of the above work, choose a loud talker who is being disrespectful, and send him/ her to the office. Now they know you are serious.
Continued on next page »




About Barbara Pressman...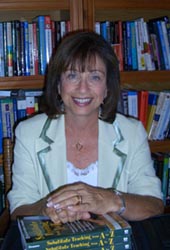 Barbara Pressman is an adjunct professor at the College of Education, Florida Atlantic University. She has been a classroom teacher for more than 20 years, and a supervisor for student teachers for 10 years. She currently mentors Substitute Teachers as well.
Teachers.Net asked Barbara how she came to be interested in writing for substitute teachers. Her response:
I have subbed for many years during my teaching career. When my children were small, I found subbing to be a wonderful "free lance" job. At that time, I took on a 6th grade long term subbing assignment, which led me back to full time teaching. Upon retirement, I went back to subbing once again.
Barbara is the author of book
Substitute Teaching from A to Z (McGraw-Hill, 2008), available in all major bookstores and Amazon.com. To find out more, visit: www.substituteteachingatoz.com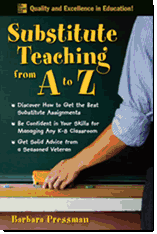 Substitute Teachers:
Barbara invites you to submit your question by email. Your question could appear in a future column!



Barbara Pressman Articles on Teachers.Net...


Related Resources & Discussions on Teachers.Net...