Three fundamentals taught to Paleolithic children in certain community schools … were fish-grabbing with the bare hands, horse clubbing and saber-tooth-tiger-scaring-with-fire. When a glacier caused fish, horses and tigers to disappear, schools nevertheless went on teaching the old fundamentals for the "eternal verities" they contained – until a few radicals, called progressive educators, succeeded in forcing revisions in the Saber-Tooth Curriculum.

…from the The Saber-Tooth Curriculum
'J. Abner Peddiwell' (McGraw Hill 1939)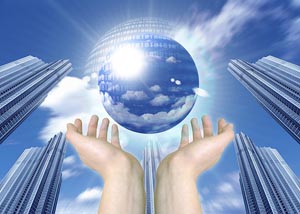 Well, maybe we're not teaching Saber-tooth curricula, but as a Texas school administrator recently put it: "When we look at our public schools today, I'd say they're doing a dadgum good job of preparing our kids for the 20th and 19th Century."

So we might well ask the question:
What and how do teachers need to teach so that their students learn the new skills and new ways of thinking they will need in order to meet and successfully address the multiple challenges of the 21st century?
According to one education policy analyst, "The heart of 21st century skills—what policymakers and educators need to focus on—is an emphasis on what students can do with knowledge rather than the individual units of knowledge they have. The ability to analyze and evaluate information, and to create new ideas and new knowledge from that information—these are the skills that matter most now."
A report by The Partnership for 21st Century Skills lists as essential, such skills as:
Thinking critically and making judgments about the barrage of information that comes their way every day—on the Web, in the media, in homes, workplaces and everywhere else. Critical thinking empowers Americans to assess the credibility, accuracy and value of information, analyze and evaluate information, make reasoned decisions and take purposeful action.

Solving complex, multidisciplinary, open-ended problems that all workers, in every kind of workplace, encounter routinely. The challenges workers face don't come in a multiple-choice format and typically don't have a single right answer. Nor can they be neatly categorized as "math problems," for example, or passed off to someone at a higher pay grade. Businesses expect employees at all levels to identify problems, think through solutions and alternatives, and explore new options if their approaches don't pan out. Often, this work involves groups of people with different knowledge and skills who, collectively, add value to their organizations.

Creativity and entrepreneurial thinking—a skill set highly associated with job creation. Many of the fastest-growing jobs and emerging industries rely on workers' creative capacity—the ability to think unconventionally, question the herd, imagine new scenarios and produce astonishing work. Likewise, Americans can create jobs for themselves and others with an entrepreneurial mindset—the ability to recognize and act on opportunities and the willingness to embrace risk and responsibility, for example.

Communicating and collaborating with teams of people across cultural, geographic and language boundaries—a necessity in diverse and multinational workplaces and communities. Mutually beneficial relationships are a central undercurrent to accomplishments in businesses—and it's not only top managers who represent companies anymore. All Americans must be skilled at interacting competently and respectfully with others.

Making innovative use of knowledge, information and opportunities to create new services, processes and products. The global marketplace rewards organizations that rapidly and routinely find better ways of doing things. Companies want workers who can contribute in this environment.

Taking charge of financial, health and civic responsibilities and making wise choices. From deciding how to invest their savings to choosing a health care plan, Americans need more specialized skills—simply because the options are increasingly complex and the consequences of poor decisions could be dire.
Higher education agrees
Colleges, too, recognize the need for their students to develop and apply these skills. To help students tackle college coursework as well as prepare for careers in a globally competitive workforce, many colleges align classroom environments with the real world. For example, The Action Research Project is an important component of the Master of Arts in Education programs at the University of Phoenix. Students identify a problem, design a potential solution strategy, and analyzing the results.
Action research is also a central component of the graduate curriculum at Springfield (MA) College. Over the course of four terms, graduate students engage in an action research project that applies classroom knowledge to workplace and community issues. The projects provide opportunities for in-depth study in their area of interest, and must result in tangible outcomes.
A study completed by the Education Alliance at Brown University identified six developmental needs students have. The study by Clarke and Frazer suggests that (1) students need to express their personal perspective, (2) they need to create individual and group identities, (3) they need to examine options and choose a path, (4) they need to take risks and assess effects, and (5) they need to demonstrate mastery.
Consequently, many colleges look for these kinds of skills in students who apply for admission. Hampshire College in Western Massachusetts, for instance, offers "clues" intended to highlight the kinds of characteristics that broadly apply to prospective students for whom Hampshire might be a good fit. Among the "clues" are the following.
You always carry a book, notebook, drawing pad, or laptop with you. Just in case.

When a teacher gives you an assignment, you ask if there is a different, more creative way in which you could complete it. You consistently find ways to incorporate your "non-academic" interests into your academics.

You see connections between several seemingly unrelated subjects (maybe physics, philosophy, and music?).
After nearly twenty years of the same general education requirements for students, the University of Kentucky is looking to change things. Rather than the standard semester-long basic courses, a new 'modular learning' program, "Foundations of Inquiry," is being considered. This first-year requirement is largely intended to help students transition into college. The course, a series of five-week "modules," is a shift away from the broad survey courses, which the committee criticizes as often being too focused on fact-dumping.
Continued on next page »