I love student teams. For one, they provided me with an additional way to work with students other than the typical one-on-one or whole-class interactions. For another, the students were afforded another resource for problem-solving. ("Check with your team," was one of our mantras.) Depending upon how many students were assigned to the room, we'd create either five or six teams. The teams were rainbow-colored (red, orange, yellow, green, blue, violet) and had a small square of colored construction paper hanging over their team area so that it was easy to figure out where each team was located.
Rainbow Cards
There were many times during my early years of teaching when I needed our student teams to take turns completing a task. It might have been something as routine as turning in an assignment or reading written work in front of the other students. If so, the teams didn't really care who went first and who went last.
On the other hand, if it was something a bit more meaningful to them—say, teams visiting the classroom snack shop or heading to the school library—they did care. A lot. And it was at those times, when each team wanted to be first, that I needed to exercise caution in the selection process. I had learned that any hint of prejudice or bias would result in a great deal of wailing and gnashing of teeth.
Unfortunately, though, the Old School method of choosing I used as a rookie teacher—me visually assessing each team for its readiness and then selecting one team to be first—actually created a culture of complaining.
Before Rainbow Cards
Mr. Morris:

Thinking about the need for teams to choose art materials:

Okay, let's see which team is ready to choose their art materials for today's special project.

Student Teams:

Scrambling to appear ready:

Come on, come one! Art project! Shhhh! Everybody quiet!

Mr. Morris:


Looking around the room at the trying-so-hard-to-please-their-teacher teams:

How……about……the……………Green Team!

This announcement was quickly met with sounds of glee from the Greenies and sounds of derision, despair, and frustration from the others. And since I was the one who had chosen the green team to be first, I became the focus of the complaints.

Not good.
After Rainbow Cards
Let's replay the team selection process but use Rainbow Cards to eliminate all of the whining.
Making Rainbow Cards

Glue colored squares of construction paper to 4 X 6 index cards.

Laminate the cards.

Using a single-hole punch, punch a hole at the top of each card.
Using Rainbow Cards
These cards—one per team—will be shuffled and hung from straight pins. The order of the cards hanging from the pins will let everyone know which team is first, second, etc. It's simple. It's fair. It's even somewhat dramatic.
Mr. Morris

Shuffling the six rainbow cards face-down so that the colors can't be seen by anyone:

We need to send teams back to the conference tables so that they can get their art supplies for the project. While you're waiting for your turn, you can clear your desks and get out a pair of scissors.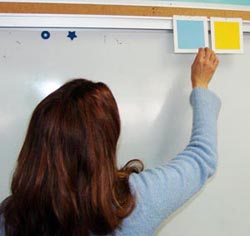 With that, I turn to the wall at the front of the room and hang the Rainbow Cards on the six straight pins. (I recommend that you hang the cards from right to left so that you can create a bit of suspense as to which team will actually be first.)

When all of the cards have been hung, the students can see the order in which they will be getting supplies. And since the whole process was randomly done, there's no more complaining.

As you can see, the Violet Team is first and the Yellow Team is last.

Rainbow Order Reward: We have a standing bet in Room 12. If the cards end up in rainbow order (red, orange, yellow, green, blue, violet) they get extra recess time. Even though the odds of this happening are slim—I've only seen rainbow order happen once or twice in all of the years I used these cards—the students would faithfully await its appearance.

Note: You could eliminate the need for the hole and the straight pins by attaching a bit of adhesive magnet on the back so that you could stick your Rainbow Cards on a magnetic whiteboard. Just bear in mind that the adhesive magnets will make it more difficult to shuffle the cards. Another simple variation would be to place the cards in a pocket chart. This would eliminate the need for the hole and the straight pins but still make them easy to shuffle.

Continued on next page »